In My Sleep
(2010)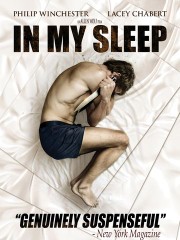 In My Sleep Trailers & Photos
Movie Info
Barely dressed, Marcus wakes up in the middle of a cemetery. He has no idea how he got there. But this is not the first time this has happened. In fact, lately when he wakes up, Marcus has to ask himself: Where was I last night? Who was I with?
Marcus suffers from parasomnia, a rare form of sleep disorder which causes him to do things in his sleep, which he cannot remember the next day.
His situation only gets worse when Marcus wakes up covered in blood with a knife at his side. Then, the wife of his best friend is found dead, stabbed to death. Marcus is scared to put together the pieces - could he have murdered her in his sleep to hide a dark secret between them?
A series of mysterious phone calls leads Marcus to believe that someone else is watching him. Marcus begins investigating his own nocturnal activities, following clues and trying to figure out what happens after he goes to sleep at night. His journey to discover the truth ends in a shocking discovery. --© Official Site
more
Cast
News & Interviews for In My Sleep
Critic Reviews for In My Sleep
Audience Reviews for In My Sleep
Meant to be Hitchcockian -- the writer and director, Allen Wolf, more or less says so in his director's statement -- and maybe it is, if you think of it as, say, Hitchcock's senior project for film school. zzzzzz boring!
½
Aspires to the noble tradition of Hitchcock and L.A. film noir, but boasts all the cerebral and aesthetic restraint of a West Hollywood dance club.
In My Sleep Quotes
Becky: Sometimes in your dreams, you do what you really wish you could do in reality.
Marcus: My sponsor says I use sex to escape.
Marcus: I just need something to keep me from walking around at night.
Dr. Schwarz: If you're a parasomniac, you'll need something strong.
Discussion Forum
Discuss In My Sleep on our Movie forum!
News & Features