Stray Dogs
(2014)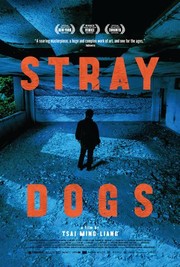 Tickets & Showtimes
Stray Dogs Trailers & Photos
Movie Info
A father and his two children wander the margins of modern day Taipei, from the woods and rivers of the outskirts to the rain streaked streets of the city. By day the father scrapes out a meager income as a human billboard for luxury apartments, while his young son and daughter roam the supermarkets and malls surviving off free food samples. Each night the family takes shelter in an abandoned building. The father is strangely affected by a hypnotic mural adorning the wall of this makeshift home. On the day of the father's birthday the family is joined by a woman-might she be the key to unlocking the buried emotions that linger from the past?
more
Cast
News & Interviews for Stray Dogs
Critic Reviews for Stray Dogs
Audience Reviews for Stray Dogs
½
If "Stray Dogs" is a challenging movie for some viewers, it might have to do with more than just its deliberate pacing. In fact, director Tsai Ming Liang has structured this movie unlike most others in that it resembles a jigsaw puzzle more than anything else. So, what might seem confusing at first, soon clarifies to show a portait of a family in crisis living on the edge of starvation with the mother having just left because she can no longer stand it even before the opening credits. After which, her daughter and son hang around a supermarket all day, eating free samples and buying a cabbage. Whether this is because of the fractured family dynamic or the daughter just being one weird kid is up for debate.

In the meantime, the father works at a miserable low paying job holding a sign advertising apartments in a highway median in all sorts of weather which is certainly not for the faint of heart. What Tsai Ming Liang does well is use the irony of all of these luxury apartments being built and then left unoccupied and compare that to people like this family who are homeless and living in squalor in Taipei.
½
Tsai Ming-Liang's style has so far been utilized for the sake of presenting ideas and allowing the audience to ruminate on them, leaving the subtext hidden in plain sight without spelling anything out. With Stray Dogs, he uses his love of long-takes and the static camera for a different purpose, his intentionally slow pace lending itself to the central story of a homeless family's daily struggle to survive as it demonstrates how long the days would be if one were in their situation. It's a new outlet to convey his signature themes, but it's never made explicit whether or not it's meant to be seen as a bleak counterpart to The River or a hopeful spiritual sibling to Goodbye, Dragon Inn.

He lets the audience know what they're getting into from the get-go, holding a shot of a woman brushing her hair for a few minutes before showing the title, effectively signaling to those with an aversion to this kind of thing to leave the theater lest they endure it for two and a half more hours. He places a lot of faith in the audience with this film; the entire point is up to the viewer's interpretation. Yes, he looks at misery in city life and contrasts it with nature, but there are contradictions here that signal that it could ultimately go in two polar opposite directions. The city is collapsing around the family, trying to swallow them up and digest them, but they cling to each other, finding moments of beauty, presenting the central paradox that leads to the film's interpretive ending.

Tsai's ending is either a depressing statement about society's irredeemability that would ultimately render the family's entire existence futile or a poignant reaffirmation that life is worth enduring, a dilemma that the characters try to figure out themselves. One makes a decision and it causes the other to make his own. The camera then lingers to allow for you to make yours, leaving it up to you to decide whether or not the final shot is meant to represent art as a beacon of hope in a cruel abyss or a nihilist representation of our ultimate insignificance.
Discussion Forum
Discuss Stray Dogs on our Movie forum!
News & Features