Kantoku - Banzai! (Glory to the Filmmaker!)
(2007)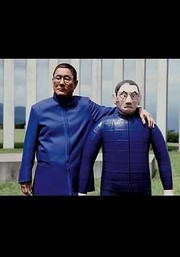 AUDIENCE SCORE
Critic Consensus: No consensus yet.
Tickets & Showtimes
Kantoku - Banzai! (Glory to the Filmmaker!) Trailers & Photos
Movie Info
A self-referential comedy that serves as prolific Japanese filmmaker Takeshi "Beat" Kitano's latest attempt at "creative destruction" (that process was set into motion with the release of 2005's Takeshis), Kantoku Banzai! follows an ageing filmmaker (Kitano) who is eager to revive his failing career. Realizing that he has taken to falling back on familiar clichés, the weary director experiments with producing everything from an Ozu-inspired home drama to an ultra-commercial J-horror film - all with varying degrees of failure. ~ Jason Buchanan, Rovi
more
Cast
News & Interviews for Kantoku - Banzai! (Glory to the Filmmaker!)
Critic Reviews for Kantoku - Banzai! (Glory to the Filmmaker!)
All Critics (2) | Top Critics (2) | Fresh (0) | Rotten (0)
Audience Reviews for Kantoku - Banzai! (Glory to the Filmmaker!)
My first experience with Kitano as director, and I say file away under first class WTF right next to Funky Forest. The beginning when Kitano and his matching dummy(who trade places throughout the film, whenever Kitano feels pressured or uncomfortable) think of new films to make Kitano a success.

They try gangster movies, bexause they are what Kitano is best at, but he has done too many of them and wants to get away from bieng typecast. Then they try a "traditionaly Japanese Ozu like film, they kind Wim Wenders would like", but it too falls through "who wants to waste a half hour on drinking liquor and tea." Stories about the "common folk" arent common anymore and niether are the folk, the black and white is just alienating. They go through a few romances first where a woman is devoted to a man, then where a man is devoted to a women. Martial arts period films and horror films get their turns as well, but all failures illustrated by the suicide/murders of the Kitano shaped doll. Then providence strikes and Kitano knows what to do, he will make a big budget CGI sci-fi spectacle about meteors racing to earth, only the meteors have faces and are supposed to become major characters in the film.

After that reason abandons ship alltogether and the last 45 mintues to an hour are the worlds longest Monty Python sketch involving Kitano as the assistent to a mad scienctist/industrialist, and a mother and daughter trying to make cash the easy way, by putting roaches in their food at restaurants, getting hit by cars, and finally marrying Kitano. Trips to France, pro-wrestlers, villagers hopping like bunnies, robots, and generally inexplicable events follow one after the other until the credits. In Godard like fashion even the characters seem out of place in this slapdash world, asking about why certain earlier strange things happened, at which point Kitano transforms into the wooden doll version of himself (if only we could all do this to get out of tough questions.)

I laughed a few times, mostly out of suprise, but sometimes out of exauhstion. There's an ealry scene where Kitano tries to make a drama about the 50's, but fails once he realizes Japan in the 50's was the wrong place at the right time. The nostalgic and innocent decade of American pop, was there a time of "discrimination, poverty, and domestic abuse". It was also when Kitano grew up, moments which begin with promise of sentiment or catharsis segue into reminders of social horror at every turn. I don't think he necessarily intended this scene to be the "heart" of the film, and not just another spoof scenario but it goes longer than most of the others, and after seeing it, and the conceptual loops, dead ends, and false starts, the film maker goes through for sake of "glory" it's easy to understand how it might be tempting to just turn into a block of wood, and let your Id make the decisions. Easier but not necessarily better to watch.

Though considering the great ode to artistic impotance "8 1/2" has now become a star studded Hollywood musical in "Nine", it's easy to understand Kitano's frustrations with the cinematic redundancy and the bastardized genre permutations that they spawn.
It's a lot slower than Takeshis (I dozed off during the Karate scene, though I was also tired), but I liked how it was really for filmmakers, while Takeshis' was for the fans of Kitano's work. The way he completely nailed his Yakuza film style in a parody fashion made me laugh like crazy and I was chuckling insanely right away when the Ozu homage came in. There's so many good gags about the idiocy of how the film "industry" works, where the art no longer is important and sort of working to find elements that are successful.

The symbolism as the film goes towards the end just hit me also, where there's a remark early in the film made about the love stories being women devoted to a man who isn't interested in her, a genre that wants the director but he doesn't want to do. And at the end, with all the insanity, he finally has a reason to go for it, and so he devotes himself to that. That's the glory - destroying the cliches and making something that's truly your own. (this'll make more sense when you see the film - it's very, VERY difficult to spoil it)

I liked it, though I hope he makes his next self-referential film a little more lean and faster in pace. Kitano's slow, but melodic, dramatically interesting, etc. This...was tiring. o_o

But, for fans of Japanese cinema, for filmmakers themselves, and huge-time Kitano fiends like me this is still a must-see. :D
Discussion Forum
Discuss Kantoku - Banzai! (Glory to the Filmmaker!) on our Movie forum!
News & Features