King of New York
(1990)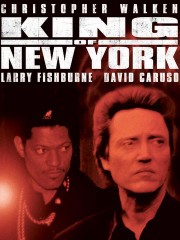 Tickets & Showtimes
King of New York Trailers & Photos
Movie Info
Upon his release from prison, ruthless drug kingpin Frank White moves to regains control of his criminal empire. This character-driven crime drama focuses on the enigmatic, paradoxical personality of White, who ruthlessly quashes competition with one hand while giving his profits into a hospital for the poor with the other.
more
Watch it now
Cast
News & Interviews for King of New York
Critic Reviews for King of New York
Audience Reviews for King of New York
Melvin White
Super Reviewer
Abel Ferrara has garnered a reputation over the years for having a sharp eye for being able to artfully portray the darker, grittier side of New York's criminal underworld, and this is a choice example to back that up.

Recently released from Sing Sing, mobster Frank White sets out to rebuild his criminal empire and reinstate himself as the head of the criminal drug trade. Aided by his army of loyal thugs, they set out to eliminate all threats and rivals, namely various Italian and Asian gangsters, as well as a fiercely ruthless team of cops determined to bring them all down. But getting back to the top isn't the only goal. Frank's not just a criminal, he's a socially conscious one, and it is his hope that, once he's back in full power, that he will try to do some good in the world, a la Robin Hood.

Driven by Schoolly D's groundbreaking influential hip-hop soundtrack, this is a stylish, dark, and tremendously violent crime thriller. Christopher Walken leads an all star cast as Frank, and joining him are stellar supporters like Laurence Fishburne, David Caruso, Wesley Snipes, and several others, all putting in some nice work.

The camera work is top notch, the city's underside is suitably raw and grim, and this is a pretty memorable piece of work all around. It's not the most polished or original film of its type, but it is quite entertaining, so give it a watch.
Chris Weber
Super Reviewer
½
Raw, gritty and stylish gangster picture from director Abel Ferrara who crafts an uncompromising portrayal of New York's criminal underworld. The power of this film lies in the performance of Christopher Walken who plays mob boss Christopher Walken. With a great story to tell, director Abel Ferrara crafts an unrelenting gangster picture with a terrific plot. What makes this film stand out among other films in the genre is that it's a modern retelling of the classic Robin Hood tale, and Ferrara does it very well. Walken is menacing ion his role, and he's what makes this film such a memorable viewing experience. The tone of the film is dark, gritty and with no sense of hope. King of New York shows the ugly side of New York, and the film may not be perfect, but it's a well executed film that shouldn't be overlooked by crime film fans. The film is entertaining from start to finish and manages to give the viewer an in your face portrait of the crime world of New York. With raw violence, effective performance, Abel Ferrara delivers a film that made audiences walk out due to its amount of violence and subject. A solid work in the crime genre, King of New York should be seen by fans of the genre. Christopher Walken as usual delivers a stunning performance and he is perfect for the role of Frank White. Abel Ferrara might have had a so-so career when he came out with his obscured exploitation Slasher flick The Driller Killer, but with King of New York, he proves that he's able to craft a more stylish film with substance and raw intensity that makes you take notice.
King of New York Quotes
Larry Wong: Stick around, Frankenstein coming on next.
Frank White: I'm not your problem.
Dennis Gilley: I heard a rumor about you.
Frank White: What's that?
Dennis Gilley: I heard you got AIDS getting dicked up your ass in prison, that's what I heard.
Frank White: [laughs] I thought about you every time I jerked off, dickhead.
Frank White: You think ambushing me in some nightclub's gonna stop what makes people take drugs? This country spends $100 billion a year on getting high, and it's not because of me. All that time I was wasting in jail, it just got worse. I'm not your problem. I'm just a businessman.
Discussion Forum
Discuss King of New York on our Movie forum!
News & Features