Lifeforce
(1985)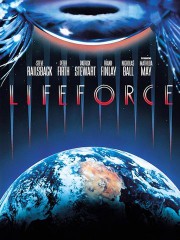 Tickets & Showtimes
Lifeforce Trailers & Photos
Movie Info
When alien vampires terrorize London, it's up to a determined police inspector and an astronaut to stop them. American and British space travelers discover humanoids while exploring near Halley's Comet. The astronauts bring three of these aliens aboard their spaceship and head back to earth. However, their guests turn out to be evil vampires who kill all but one of the astronauts -- Carlsen. After the ship arrives in London, the monsters -- led by a beautiful female -- escape and wreak havoc throughout the city, transforming humans into zombies. Meanwhile, the surviving astronaut and Caine, a determined police inspector, frantically try to track down the creatures, and destroy them. But the "Space Girl" has a strange hold over Carlsen, and he has trouble fighting the urge to join her.
more
Cast
News & Interviews for Lifeforce
Critic Reviews for Lifeforce
Audience Reviews for Lifeforce
Tobe Hooper has always pushed the envelope in terms of delivering effective horror to an audience. This is one of those horror films that takes a few viewings to really get into due to the fact that it's quite bizarre and eccentric. The premise is quite interesting, but does leave something to be desired. The film boasts some impressive sequences of terror with great gore. Lifeforce is an interesting concept for a film that is based around space vampires, and with that being said, it is an idea that should have been great, but as it stands, only ends up being good. I say that because the final act of the film leaves a lot to be desired and with we've seen in the impressive first hour and a half, the ending is a bit disappointing, and you can clearly see that the filmmakers were struggling with the ending. Despite its ending, this is an accomplished horror film that relies on great effects and a well structured plot to terrify and immerse the viewer into the film. This may not be the best Tobe Hooper film, but it is quite overlooked. I admit I really didn't enjoy this one upon a first viewing, but after watching the director's cut of the film, which is far superior, I really got into this one. The film is bizarre, but it tries to be different, and it works well enough to keep you on the edge of your seat. The ending could have been reworked, but overall this is a good film that should be seen by Tobe Hooper fans. Lifeforce is not a great film, but it is a good horror yarn that tries to do something different in the medium, and it does it in a way to make you take notice and appreciate what the filmmakers have done here. This is an overlooked picture that is far better the second time around, and ranks up there as among Hooper's most eccentric works.
½
Space Girl: The web of destiny carries your blood and soul back to the genesis of my lifeform. 

"In a blink of an eye, the terror begins."

Lifeforce is the first Tobe Hooper film I haven't liked. Granted I have only seen four of  his movies. But I loved the other three I have seen; Poltergeist, Texas Chainsaw Massacre and The Funhouse. Poltergeist and TCM are considered two elite films when it comes to the horror genre. But Lifeforce is borderline unwatchable. It's ridiculous but cool premise washes away after about 20 minutes and starts becoming a boring mix of vampires and zombies.

When the best part of a movie is a vampires body, then there's something really wrong with the movie. I hate to say it but when they put clothes on the girl is when I lost interest. There was something watchable about a naked girl walking slowly around and causing crazy stuff to happen that didn't translate well to that same girl walking around in clothes causing crazy stuff to happen.

Lifeforce is a bad sci-fi film. It's definitely not very memorable like Poltergeist or TCM, or even The Funhouse. It's not fun to watch and actually just keeps getting more and more boring as the movie goes on. It's not really worth a look unless you like bad horror movies a lot. But be aware that this movie doesn't fall into the so bad, it's good category of horror. It's just bad.
Melvin White
Super Reviewer
Lifeforce Quotes
Inspector Fallada: Death, Colonel Caine, correct. Thanatology's the name for it. Death for you, Colonel, is a bureaucratic problem. Who did it. When, why did they do it. A problem to be solved, am I correct?
Discussion Forum
Discuss Lifeforce on our Movie forum!
News & Features