Lost in America
(1985)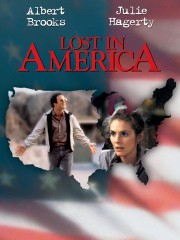 Tickets & Showtimes
Lost in America Trailers & Photos
Movie Info
Two dissatisfied yuppies leave their suburban lives behind and embark on a journey to rediscover America and themselves. This idea proves to be far more attractive in theory than actuality -- this satirical comedy follows the descent of the couple's idyllic journey as it rapidly descends into nightmarish confusion.
more
Cast
News & Interviews for Lost in America
Critic Reviews for Lost in America
Audience Reviews for Lost in America
A couple abandons their life in the suburbs to head out on the open road until they lose their nest egg in Vegas.
There are some very funny moments in Albert Brooks's script. I especially enjoyed some of the one-liners like "There's no one here I could quit to" and "If Liberace had children, this [cheap bridal suite with heart-shaped single beds] would be their room." But Brooks's neurotic delivery loses its charm, and there's something too aggressive about it. Contrasted to Woody Allen, who rarely seems threatening, Brooks seems too edgy, too close to dangerous, so that we can't laugh because we're too busy hoping he doesn't hurt someone.
Julie Hagerty is, of course, hilarious. Her sweet voice and soft temperament make her a delightful contrast to Brooks.
I also like the film's main idea. It's a satire of the yuppies' obsession with "finding oneself" on the road a la Easy Rider, which is often referenced in the film. In the voice of an employment agent, who says, "You couldn't change your life on a hundred thousand dollars a year?" Brooks needles the generation with one of the cushiest births possible.
However, I thought the film moved slowly, and there were scenes that were meant to be funny - David's pursuit of his wife at the Hoover Dam and Linda's obsession with twenty-two on the roulette table - but they failed to be all that amusing.
Overall, Lost in America is a very good satire, but not all satire leads to hilarity.
Jim Hunter
Super Reviewer
David Howard: He'll buy that boat from that stupid boat catalog he's been making me look at for the last two months, and he will crash that boat off Catalina Island, and he will drown and die and seals will eat him.

I'm a big Albert Brooks fan. From his little parts in movies like Out of Sight to a turn to voice acting in Finding Nemo and his various Simpsons characters, I find his comic sense hilarious. The movies he has written and directed himself I always seem to find to hit the right note.

David Howard: Shut up Brad! Your song stunk, I hate your suit and I could hurt you!

Here Brooks plays David, a yuppie living in LA making a lot of money as an Advertising Exec. For reasons only he could justify, David leaves his job and convinces his wife Linda, played by Julie Hagerty, to quit hers.

They develop a plan to liquidate all of their assets, giving them a large nest egg of money, buy a Winnebago and hit the road to find themselves and live off the road for the rest of their lives. However, this plan is almost immediately thwarted when Linda gambles away all of the nest egg in one night in Las Vegas.

David Howard: Why didn't you tell me when we got married that you were this horrible gambling addict? It's like when you have a venereal disease - you tell somebody!
Linda Howard: I've only gambled twice in my life... This was the second time.

With very, very few options, David and Linda must figure out what to do.

The plot certainly isn't taken to its fullest by the time it reaches the end, but the movie is very funny throughout. It once again comes down to Brooks' presentation of his comedic sense. It also helps that Hagerty is a great foil to Brooks' character, as well as a great scene between Brooks and Gary Marshall.

The movie is very funny throughout and a good look at a twist on 80s yuppie life.

[at Hoover Dam]
David Howard: Nice dam, huh? Do you want to go first, or should I?
Discussion Forum
Discuss Lost in America on our Movie forum!
News & Features