Mallrats
(1995)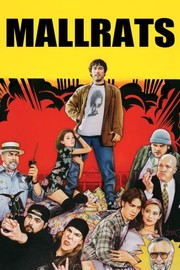 Mallrats Trailers & Photos
Movie Info
Kevin Smith's follow-up to his unexpected hit Clerks details the pointless story of T.S. (Jeremy London) and Brodie (Jason Lee), two suburban New Jersey slackers who decide to head to the mall in search of solace after being dumped by their girlfriends (Shannon Doherty and Claire Forlani, respectively). There the two young men machinate to appear on a game show being staged and also manage to meet comic-book magnate Stan Lee. However, complications arise when the girls show up. ~ Jeremy Beday, Rovi
more
| | |
| --- | --- |
| Rating: | R (adult situations/language) |
| Genre: | Comedy |
| Directed By: | Kevin Smith |
| Written By: | Kevin Smith |
| In Theaters: | Oct 20, 1995 Wide |
| On DVD: | Jul 18, 2000 |
| Runtime: | |
Cast
News & Interviews for Mallrats
Critic Reviews for Mallrats
All Critics (50) | Top Critics (13) | Fresh (23) | Rotten (19) | DVD (32)
Mallrats mixes clever bits and an appealing quirkiness (which goes a long way) with gross-out practical jokes, needless repetition and obvious padding, since it has no real plot.
New York Times
Top Critic
If the Sundance Institute or the AFI ever offers a course advising directors of successful first films what to avoid the second time around, Mallrats could be at the heart of the curriculum.
Los Angeles Times
Top Critic
Smith has slicked up his follow-up vision of Slackerville USA, but the outcome is nowhere near as brash and original.
Between the routines and retorts, there's a lot of narrative dead air -- and far too many new guests.
Washington Post
Top Critic
Retains enough Smith-isms to help navigate all potholes in execution. Flawed, yes, but Mallrats has its charms when it isn't shoving its hand up its own hindquarters.

Audience Reviews for Mallrats
½
Though this a brainless, disappointing follow-up to Clerks, it's still enjoyable just to enter back into the world of Kevin Smith.
½
Brodie: Listen, not a year goes by, not a year, that I don't hear about some escalator accident involving some bastard kid which could have easily been avoided had some parent - I don't care which one - but some parent conditioned him to fear and respect that escalator. 

"It's mall or nothing"

Okay, so Mallrats isn't Clerks or Chasing Amy; it is still funny and entertaining in ways only a Kevin Smith film can be. Filled with foul language and gross out dialogue; Mallrats is a movie that is pretty much identical to Clerks in concept. The film gives us two friends, who hang out at one location and talk all day. Occasionally something happens, like an elevator fuck, but for the most part it is just an average day in the life of two best friend losers.

Both T.S. and Brodie have been dumped by their girlfriends on the same morning. After meeting up and learning that the other has had the same misfortune, they decide to go hang out at the mall. There they run into a cast of characters. There's a guy who stares at a picture all day trying to see the 3-D image. There's a 15 year old genius who is writing a book on males sex drive. Stan Lee is having a comic signing in the mall. Brodie's archenemy, Shannon, works in a store there and is making the moves on his now ex-girlfriend. And of course Jay and Silent Bob are there hanging out, doing nothing. 

This movie doesn't reach the hilariousness of Clerks, but for a second directorial project, it is pretty good. It has the great indie feel that all of Smith's works have. It is packed full of all of the entertainment Smith loves like comic books and Star Wars. In fact, the whole movie Silent Bob is trying to do the Jedi mind trick. 

Mallrats isn't great, but if you have seen some of Smith's other films and liked them, odds are you will like this one too. If you have seen and disliked movies like Clerks and Chasing Amy, even Jay and Silent Bob Strike Back; I can pretty much guarantee you won't like this one anymore. In fact, you'll probably like it less. 
Melvin White
Super Reviewer
Mallrats Quotes
Tricia: When are men going to learn that women want romance, not Mr. Toad's Wild Ride?
Brodie: Be fair, all right? Everyone wants Mr. Toad's Wild Ride.
Brodie: I love the smell of commerce in the morning.
T.S. Quint: I'd prefer ritual suicide.
Brodie: Breakfasts come and go, Rene, but Hartford, 'the Whale,' they only beat Vancouver once, maybe twice in a lifetime.
Discussion Forum
Discuss Mallrats on our Movie forum!
News & Features