Mammuth
(2011)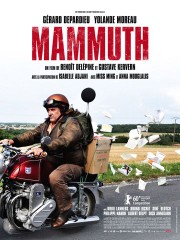 Mammuth Trailers & Photos
Movie Info
After turning 60, working-class man Serge (Grard Depardieu) decides to retire and is ready to reap his pensioners rewards. He runs into the implacable wall of bureaucracy after finding out that his former employers have neglected to declare his earnings. To receive full benefits he needs to go back to them and gather the missing affidavits. Encouraged by his wife, our hero climbs his old 1970s Mammoth motorcycle and sets off on a trip to recover lost wages and buried memories. As he reconnects with old friends, Serge discovers that their idea of him is vastly at odds with his self-image; salvation comes to him from his young niece, who awakens the happy poet that lies dormant inside him. -- (C) Olive Films
more
Cast
News & Interviews for Mammuth
Critic Reviews for Mammuth
Audience Reviews for Mammuth
Directors Gustave Kervern and Benoît Delépine in this movie combined intense Frenchness with a kind of English comedy-sensibility the best possible way and they got weird movie which is fummy and sad! Gérard Depardieu was a real star even in very unusual scenes which Kervern and Delépine sometimes unexpectedly spring on the viewer, just to keep us all off balance (one of those scenes shows Depardieu engaging in the kind of activity with his cousin which is almost always reserved for teenagers in the movies)...

A fat, resentful and slow-witted man called Serge, riding a motorbike "Mammuth" is uncompromisingly unsympathetic. His wife is working in a supermarket (played by Yolande Moreau) and she, too, is massively unsympathetic. And two of them in a story when Serge retires from his job in a meat-packing plant - does not promise a lot... it'll be your mistake to assume that!

Serge must now tour around the country on his old motorbike, collecting the lost payslips and documents that prove his employment history and this is a chance for us to travel with him into his dodgy dark past haunted by the ghost of an old girlfriend, played by the beautiful Isabelle Adjani.

Enjoy this unexpected journey in full! I really did!
½
Having two rather unsympathetic characters as your leads isn't a problem for me, especially when they are played by Gerard Depardieu and the fearless Yolande Moreau at the top of their game. What I did find troubling with Mammuth however is that it is (ironically) so slight, it barely exists. The promising, pretty funny start sets up what could have been a decent, off-beat road movie, with Serge tasked to seek out his many past employers in order to get enough pay-slips or affidavits in order to draw his pension. Though this does indeed remain the 'hanger' for the film, we are mostly given over to indulging in "kooky" scenes that have absolutely no weight, little point, and quickly start to grate - such as the continual concentrations on Serge's "free-spirited" (psychotic) niece Miss Ming. Running through is a thread that remains disappointingly under-explored about Serge's past and his guilt over the death of a beautiful young woman. There are some scenes that work (a bizarre, funny sequence where Serge is re-united with his now elderly cousin and they try and wank each other off as they once did when they were kids, abandoning their attempts when cramp sets in) and others that simply do not. The final scene is disarmingly sweet and moving and ends the film on a high, and though there is good work from the leads and occasionally some interesting things to say about the human condition, too much of the short running time is annoying or forgettable and overall Mammuth disappoints.
Discussion Forum
Discuss Mammuth on our Movie forum!
News & Features