The Man Who Would Be King
(1975)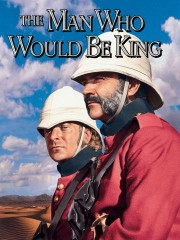 The Man Who Would Be King Trailers & Photos
Movie Info
A late-career masterpiece from legendary director/adventurer Huston and adapted from a Rudyard Kipling story, it stars Sir Sean and Michael Caine as a pair of opportunistic Victorian chappies scheming to take over a remote middle-eastern kingdom, with Saeed Jaffrey and Christopher Plummer rounding out a star-studded cast. EIFF's long-serving patron has often named John Huston's rip-roaring adventure classic among his own personal favourites. We're therefore especially delighted to present this much-beloved film with the generous support of Park Circus. 35 years on, we've become accustomed to watching movies on our televisions, our laptops, even our mobiles. But of all the films selected for this year's programme,The Man Who Would Be King is the one which emphatically demands to be seen on the biggest of screens. It's surely what Huston would have wanted - this is the man who once said "Edinburgh is the only film festival that's worth a damn."
more
Cast
News & Interviews for The Man Who Would Be King
Critic Reviews for The Man Who Would Be King
Audience Reviews for The Man Who Would Be King
½
The Man Who Would Be King tells the story of two men out to seek their fortunes as they go into a small village and build themselves up as people of importance in order to start their own nation. This is a film that I had been hearing about for a long time from various people that it was just a fantastic movie and one that doesn't get much attention these days. While I agree it's certainly underrated and not talked about, I wouldn't call it a masterpiece. The film definitely has some merit to it, but I do have to say that I was sort of bored for the first half hour or so. Things take so long to set up in a story a little over two hours long that you just want it to get there already. There's no real conflict character-wise until the third-act, which is a bit off-putting. Sean Connery and Michael Caine give good performances, of course, but the story is very uneven to me. I liked it, but I can't say that I'd recommend it without mentioning some of its faults.
Tim Salmons
Super Reviewer
½
Good old fashioned adventure film after a lesser known Rudyard Kipling story. Two British soldiers decide to create an empire on their own by traveling from India into the wild Afghan mountains, soon finding traces of Alexander the great. There is plenty to see here, two excellent leading men with Connery and Caine, gorgeous landscapes and bizarre local rituals make for a very entertaining, sometimes funny, often brutal ride, even if the heroes are cocky and still believe in making the world a better place just by being British. You see their eventual downfall coming but still cheer for them of course. Gladly, the tragic ending doesn't feel forced but as the only possible solution.
Discussion Forum
Discuss The Man Who Would Be King on our Movie forum!
News & Features