Memento
(2000)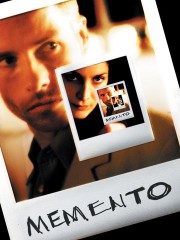 TOMATOMETER
AUDIENCE SCORE
Critic Consensus: Christopher Nolan skillfully guides the audience through Memento's fractured narrative, seeping his film in existential dread.
Tickets & Showtimes
Memento Trailers & Photos
Movie Info
A man is determined to find justice after the loss of a loved one, even though he is incapable of fully remembering the crime, in this offbeat thriller. Leonard (Guy Pearce) is a man who is struggling to put his life back together after the brutal rape and murder of his wife. But Leonard's problems are different from those of most people in his situation; he was beaten severely by the same man who killed his wife. The most significant manifestation of Leonard's injuries is that his short-term memory has been destroyed; he is incapable of retaining any new information, and must resort to copious note-taking and Polaroid photographs in order to keep track of what happens to him over the course of a day (he's even tattooed himself with a few crucial bits of information he can't get along without). Leonard retains awareness that his wife was brutally murdered, however, and he's convinced that the culprit still walks the streets. Leonard is obsessed with the notion of taking revenge against the man who has ruined his life, and he sets out to find him, getting help from Natalie (Carrie-Anne Moss), who appears to be a sympathetic barmaid, and Teddy (Joe Pantoliano), who claims to be Leonard's friend, even though Leonard senses that he cannot be trusted. Writer/director Christopher Nolan adapted Memento from a short story by his brother Jonathan Nolan. ~ Mark Deming, Rovi
more
Cast
News & Interviews for Memento
Critic Reviews for Memento
Audience Reviews for Memento
½
I need to watch this again.
An ex insurance investigator with a medical condition that leaves him with no short term memory is hunting the killer of his wife with the aid of notes left to himself in the form of tattoos all over his body. Christopher Nolan's big budget debut is a stunningly original twist on the detective movie formula, telling the story of a man's quest for vengeance in reverse chronological order. This sounds like a very simple, almost obvious idea, but it is done with such beautifully engineered intelligence and subtlety that it keeps you guessing not only til the end of the film, but also til the end of each scene as you, along with Guy Pearce's obsessive investigator, try to link each jigsaw puzzle piece of the story together. It's one of those films that is ironically unforgettable, and my only wish is that I could erase MY memory and watch it for the first time again and again. Truly unique and quite, quite brilliant.
Memento Quotes
Leonard Shelby: Enter OK, so what am I doing?
Leonard Shelby: Oh, I'm chasing this guy.
Leonard Shelby: No, he's chasing me.
Leonard: My wife deserves venagence. Doesn't make any difference whether I know about it. Just because there are Things I don't remember doesn't make my actions meaningless.
Teddy: You don't want the truth. You make up your own truth! Like your police file. It was complete when I gave it to you. Who took out the 12 pages?
Leonard: You, probably
Teddy: No, it wasnt' me. See, it was you!
Leonard: Why would I do that?
Teddy: To create a puzzle you could never solve!
Teddy: Lenny, you can't trust a man's life to your little notes and pictures
Leonard: Why not?
Teddy: Because your notes could be unreliable
Leonard: Memory's unreliable
Teddy: Oh, please!
Leonard: No, no, really! Memory's not perfect. It's not even that good. Ask the police. Eyewitness testimony is unreliable. The cops don't catch a killer by sitting around remembering stuff. They collect facts, they make notes and they draw conclusions. Facts, not memory. That's how you investigate. I know. It's what I used to do. Look, memory cand change the shape of a room. It can change the colour of a car and memories can be distorted. They're just an interpretation. They're not a record. They're irrelevant if you have the facts.
Discussion Forum
Discuss Memento on our Movie forum!
News & Features