Monty Python's The Meaning of Life
(1983)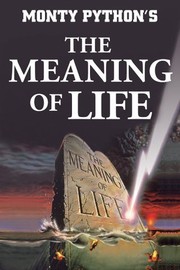 Tickets & Showtimes
Monty Python's The Meaning of Life Trailers & Photos
Movie Info
The Meaning of Life is without a doubt the most tasteless of the Monty Python feature films; it also happens to be one of the funniest. Life's questions are "answered" in a series of outrageous vignettes, beginning with a pre-credits sequence at a staid London insurance company which transforms before our eyes into a pirate ship. One of our favorite bits involve the National Health doctors who try to claim a healthy liver from a still-living donor, pointing out that there's nothing in his contract preventing this. And of course, there's the scene with the world's most voracious glutton, who brings the art of vomiting to new heights before his spectacular demise. Be warned: though hilarious, this may be the grossest bit of comedy filmmaking ever conceived (there aren't enough words in the world to describe it in detail!). Loyal Pythonites Graham Chapman, John Cleese, Terry Gilliam, Eric Idle, Terry Jones and Michael Palin star in The Meaning of Life and share writing responsibilities, while Jones is in the director's chair this time out. ~ Hal Erickson, Rovi
more
Cast
News & Interviews for Monty Python's The Meaning of Life
Critic Reviews for Monty Python's The Meaning of Life
Audience Reviews for Monty Python's The Meaning of Life
Monty Python discusses life, from the sanctity of every sperm to the rudeness of the Grim Reaper, in a series of sketches. Unlike the team's story-based feature movies, this one resembles a big-budget episode of the TV show with R-rated jokes (including the infamously sickening exploding glutton); it's still an irreverent classic, though.
½
Humphrey: What's wrong with a kiss, boy? Hmm? Why not start her off with a nice kiss? You don't have to go leaping straight for the clitoris like a bull at a gate. Give her a kiss, boy. 

"It took God six days to create the earth, and Monty Python just 90 minutes to screw it all up."

The Meaning of Life is the first Monty Python film I have the pleasure of watching, so I can't put any emphasis on comparing this to any of the others. That may actually be a good thing because I've heard the others are better. Overall, The Meaning of Life is a funny movie from the opening short film through to the feature presentation starting with Part 1- The Miracle of Birth to the last part, Death. Now some parts were great and some were not so great. 

There's definitely a weirdly intelligent humor level in all of this despite just how stupid and ridiculous it all is. The wacky imagination of these guys is something of a mystery to me, but come on; it's impossible to not say their geniuses. The humor at work here may be unflattering, at times gross, and at other times just obscene, but there's a level of genius, and not just comedic genius, in it all. 

Some of my favorite scenes were the sex-ed class, the whole Miracle of Birth, part one and two, and the Death scenes. The Middle Age part was kind of lazy and the whole Autumn years thing had its moments, but wasn't particularly satisfying.

The Meaning of Life is definitely worth a look. These guys are extremely funny and their jokes in this one work more often then they don't. And of course you get to find out the actual meaning of life at the end. It's pretty profound too, so give it a look.
Melvin White
Super Reviewer
Monty Python's The Meaning of Life Quotes
Max: Can we have your liver then?
Mrs. Brown: Yeah, all right. You talked me into it.
Young Man: I hope monsieur was not overdoing it last night.
Creosotish Man: Shut up!
Young Man: D'Accord.
Young Man: Well, I know it is not a great philosophy but....Well, fuck you! I can live my life in my own way if I want to. Fuck off!
Mrs. Brown: [walks in the room and sees two doctors disembowling her husband] What's going on?
Max: [the first doctor] He's donating his liver, madame.
Donor: GAAAAAHHHHHH!!!!!!
Mrs. Brown: Is this because he took out one of those silly cards?
Max: Yes, you're right, madame.
Mrs. Brown: Typical of the man. He goes down to the public library, sees a few side-up, comes home all full of 'good intentions'. He gives blood, does cold reserch, all that sort of thing.
Donor: BLAAAUUUUGGGHHH!!!!!!! AUUUGGHHHH!!!! HAWHAWHAWHAWHAWHAW!!!!! AAAAAHHHHHHH!!!!!!
Mrs. Brown: What do you do with them all, anyway?
Howard: [the second doctor] Oh, all go to saving lives, madame.
Mrs. Brown: That's what he used to say. 'It's ALL for the good of the country' he used to say.
Donor: AHCK!!! AHCK!!! BLAAAAAUUGGHHHHHA!!!!
Mrs. Brown: Do you think it's all for the good of the country?
Max: Hm?
Mrs. Brown: Do you think it's all for the good of the country?
Max: Well, I wouldn't know about that, madame. We're just doing our jobs.
Mrs. Brown: ... You're not doctors, then?
Max: Oh, blimey no. [both doctors laugh]
Discussion Forum
Discuss Monty Python's The Meaning of Life on our Movie forum!
News & Features