Mr. Majestyk
(1974)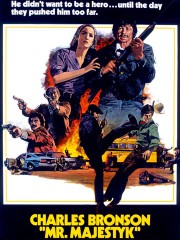 Tickets & Showtimes
Mr. Majestyk Trailers & Photos
Movie Info
Elmore Leonard's script for Mr. Majestyk was, like his novel, supposed to have concentrated on the plight of Chicano migrant workers; but what emerged on screen was extensively reshaped into a standard Charles Bronson vehicle. Battle-weary Vietnam veteran Vince Majestyk (Bronson) settles down in rural Colorado, hoping to make a living as a watermelon farmer. Despite his new-found pacifism, Majestyk can't seem to stay out of trouble, and he lands in jail, where he foils a breakout engineered by Mob boss Frank Renda (Al Lettieri). Offering to bring in Renda in exchange for his own freedom, Majestyk finds himself the main target of the Mob, who is also extorting vast sums of money from Vince's fellow farmers. It is bad enough when the crooks begin roughing up Majestyk's field hands; but when they ruthlessly machine-gun his entire melon crop, they've gone too far. Teaming up with Chicano labor activist Nancy Chavez (Linda Cristal) (any relation to Cesar?), Majestyk decides to track down the mobsters one by one and mete out retribution.
more
Cast
News & Interviews for Mr. Majestyk
Critic Reviews for Mr. Majestyk
Audience Reviews for Mr. Majestyk
All he wanted to do was pick his melons, but it seems that everyone wants to stop him from accomplishing that goal. Charles Bronson is as good as he's ever been, raging a one man war on the police and the mafia. It is the movie that Walking Tall wishes it could be and in many ways it is one of the better 70s action movies.
Richard Fleischer's gritty, forceful action drama, concerning a Vietnam veteran named Vince Majestyk, a Colorado watermelon framer, played sensationally by the late great Charles Bronson, in one of his best roles, he is wronged by a irritating, weasel-like, unscrupulous labor racketeer, Bobby Kopas, superbly played by Paul Koslo, who tries to force him to hired a worthless crew of bums and vagrants to pick his melons, instead of using his Mexican migrant workers he employed. Kopas pulls a shotgun on Majestyk, and ends up getting the shit kick out of him, for which Majestyk is arrested for and sent to the city jail, there he encounters a notorious Mob hitman, Frank Renda, played terrifically by the late character actor Al Lettieri, in a tremendous scene-stealing performance, who is waiting to be transferred to prison for murder. When Renda's mob associates stage a daring breakout during his prison transfer on a bus with Majestyk, but then Majestyk seizes Renda, and tries to make a deal with the police to exchange him for his freedom, the ruthless Renda escapes and is now hellbent on killing Majestyk personally, what follows is a rapid action thriller filled with shootouts, exciting car chases, and bare-fisted brawls. Astute direction by Fleischer, with a wonderful tongue-in-cheek script by Elmore Leonard, and a superb score by Charles Bernstein. Highly Recommended.
Mr. Majestyk Quotes
Vince Majestyk: You make sounds like you're a mean little ass-kicker. Only I ain't convinced.
Discussion Forum
Discuss Mr. Majestyk on our Movie forum!
News & Features