Natural Born Killers
(1994)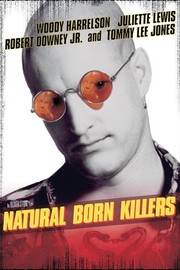 Tickets & Showtimes
Natural Born Killers Trailers & Photos
Movie Info
A frenetic, bloody look at mass murder and the mass media, director Oliver Stone's extremely controversial film divided critics and audiences with its mixture of over-the-top violence and bitter cultural satire. At the center of the film, written by Stone and Quentin Tarantino, among others, are Mickey (Woody Harrelson) and Mallory (Juliette Lewis), a young couple united by their desire for each other and their common love of violence. Together, they embark on a record-breaking, exceptionally gory killing spree that captivates the sensation-hungry tabloid media. Their fame is ensured by one newsman, Wayne Gale (Robert Downey, Jr.), who reports on Mickey and Mallory for his show, American Maniacs. Even the duo's eventual capture by the police only increases their notoriety, as Gale develops a plan for a Super Bowl Sunday interview that Mickey and Mallory twist to their own advantage. Visually overwhelming, Robert Richardson's hyperkinetic cinematography switches between documentary-style black-and-white, surveillance video, garishly colored psychedelia, and even animation in a rapid-fire fashion that mirrors the psychosis of the killers and the media-saturated culture that makes them popular heroes. The film's extreme violence -- numerous edits were required to win an R rating -- became a subject of debate, as some critics asserted that the film irresponsibly glorified its murderers and blamed the filmmakers for potentially inciting copy-cat killings. Defenders argued that the film attacks media obsession with violence and satirizes a sensationalistic, celebrity-obsessed society. Certain to provoke discussion, Natural Born Killers will thoroughly alienate many viewers with its shock tactics, chaotic approach, and disturbing subject matter, while others will value the combination of technical virtuosity and dark commentary on the modern American landscape. ~ Judd Blaise, Rovi
more
Cast
News & Interviews for Natural Born Killers
Critic Reviews for Natural Born Killers
Audience Reviews for Natural Born Killers
A thrill ride of emotion and action. Just great flick with over the top acting from Harrelson.
One of the most controversial films of the past twenty years, "Natural Born Killers" incited a frothy debate on the role of violence in mass media, and how it affects young children. The actual controversy surrounding the film included a lawsuit that stated that the film had incited violence by showing satirized depictions of violence, going against the actual point of the film. The original screenplay was by Quentin Tarantino, though later bought and heavily changed by Oliver Stone and his collaborators, though the inspiration is still very clear. The film stars Woody Harrelson and Juliet Lewis as mass murderers who are also a couple, the story taking heavily from the exploits of Starkweather, the beating of Rodney King, and sensationalized news coverage. Their story, while seeming out of this world strange, is memorable for its proximity to true American crime stories, and the media coverage that did surround them. Robert Downey Jr. plays an Australian reporter with a crime TV show (a la Geraldo Rivera) who gets way too into the story he is reporting on, and finds it all very exciting rather than horrifying. It's a scathing indictment of the media, and their inability to show murder and violence without a bit of excitement, maybe even envy. There's this gross, almost pseudo-erotic tendency that crime shows have towards their subject matter. Everything has to be pulse thumping and exploitative, even though these are real people dying. Besides its core message, this film is also amazing for its shocking use of parody, sex, and violence. Though the events in the film can be the basis for an action film, it's framed so that you feel queasy, that you see the grotesque of society while also seeing inside the minds of these killers. This film is riveting, gross, and bloody, while also being insightful.
Natural Born Killers Quotes
Jack Scagnetti: Mallory Knox, meet Jack Scagnetti.
Mallory Knox: Do you still love me?
Wayne Gale: You need to keep something alive.
Mickey Knox: Your camera.
Mallory Knox: Your camera.
Wayne Gale: Wayne Gale: I thought a bond developed between us!
Mickey Knox: No. Not really. You're scum, Wayne; you did it for RATINGS. You don't give a shit about us or anybody else except yourself; that's why nobody gives a shit about YOU. That's why 'helicopters' were not 'deployed.'
Discussion Forum
Discuss Natural Born Killers on our Movie forum!
News & Features