The Newton Boys
(1998)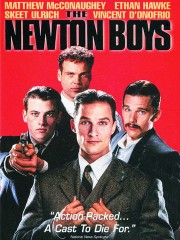 The Newton Boys Trailers & Photos
Movie Info
Richard Linklater's fifth feature is a major departure from his previous work -- his first big-budget picture, it's also the first of his films since his 1987 Super-8 effort "It's Impossible to Learn to Plow by Reading Books" not set during his signature 24-hour time frame, offering instead a ravishing bankrobber period piece buoyed by a gentleness of spirit rare among movies of any genre. Its true story tells of the four Texas-born Newton brothers, who between 1919 and 1924 were the most successful robbers in the U.S.; led by the newly-paroled Willis Newton (Matthew McConaughey, in arguably his strongest performance to date), the gang -- siblings Jess (Ethan Hawke), Joe (Skeet Ulrich) and Dock (Vincent D'Onofrio), as well as nitroglycerin expert Brentwood Glasscock (Dwight Yoakam) -- embarks on a crime spree which spreads across the U.S. and into Canada, heisting bank vaults only at night in order not to hurt or kill anyone. (As Willis figures it, the bankers -- all covered by insurance -- are merely thieves themselves anyway.) A sweetly contemplative film, The Newton Boys is almost an anti-crime caper -- no one gets killed, and the violence which does occasionally erupt is handled with a light comic touch. By no means a master storyteller, Linklater has instead crafted a movie tailored to his own strengths, among them his skillful direction of actors, his flair for period detail and his unerring sense of rhythm; like all of his work, The Newton Boys is also informed by its maker's deep and abiding love for the film medium itself, complete with any number of striking visual and emotional references to classics ranging from Greed to Jules et Jim. While viewers expecting slam-bang action typical of the genre will undoubtedly be disappointed, those seeking a more humane and poetic alternative will be utterly charmed. ~ Jason Ankeny, Rovi
more
Twentieth Century Fox Home Entertainment
Watch it now
Cast
News & Interviews for The Newton Boys
Critic Reviews for The Newton Boys
All Critics (52) | Top Critics (14) | Fresh (23) | Rotten (14) | DVD (1)
A handsome production that nicely evokes the 1920s and a likeable cast headed by McConaughey can't compensate for a Western-gangster film that's too diffuse and lacks a discernibel POV to be dramatically engaging.

Entertainment Weekly
Top Critic
Globe and Mail
Top Critic
Audience Reviews for The Newton Boys
Cast: Matthew McConaughey, Skeet Ulrich, Ethan Hawke, Gail Cronauer, Vincent D'Onofrio, Jena Karam, Julianna Margulies, Casey McAuliffe, Dwight Yoakam

Director: Richard Linklater

Summary: Four Texan brothers (Vincent D'Onofrio, Ethan Hawke, Matthew McConaughey and Skeet Ulrich) ignite a crime spree in the 1920s, robbing more than 200 banks across the nation -- without ever killing anyone. In a career highlight, the unexpectedly compassionate team pulls off the largest train robbery in U.S. history. Richard Linklater (School of Rock) directs this heist film, based on a true story, that focuses more on characters.

My Thoughts: "I hadn't planned on seeing this film, but the cast of the film changed my mind. Great cast of talented actors. They were really good together in this movie. Also it being based on a true story helped reel me in as well. I really enjoyed the movie. I was surprised by the lack of action, considering the film is based on bank robbing. But then again I enjoyed that they focused more on the character's. Gave you a chance to know them and to care for the character's. Might not be to everyone's liking, but it wasn't a waste of my time and I am glad I watched it."
♥˩ƳИИ ƜѲѲƉƧ♥
Super Reviewer
I was pleasantly surprised at how good this movie turned out. To be honest, I'd never heard of it until a friend recommended it (based on a very old trailer on IMDb).

It came out during 1998, which saw both "Mask of Zorro" and "Armageddon", so maybe that's one reason for me never hearing about it. I think it was right before Matthew McConnaughey broke onto the scene.

Either way, I just plain enjoyed watching it...They show interviews from a couple of the real Newton Boys as the credits roll, which are pretty good. In particular, the interview on Johnny Carson is pretty funny.

This makes me even more excited for "Public Enemies", another bank-robbery movie...They even have a minor character in here who supposedly goes on to work with John Dillinger, the guy that movie will be focused on.
Discussion Forum
Discuss The Newton Boys on our Movie forum!
News & Features