Night of the Creeps
(1986)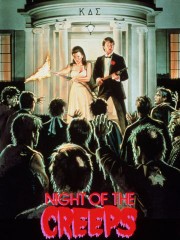 Tickets & Showtimes
Night of the Creeps Trailers & Photos
Movie Info
Three points for that title alone! But Night of the Creeps has a lot more going for it; this maiden directorial effort by Fred Dekker is a dextrous amalgam of sci-fi, horror, and laughter. Nerdish college freshmen Jason Lively and Steve Marshall pledge to a fraternity, hoping to scope out the best chicks. As part of their initiation, the boys must sneak into the college's medical center. Here they find the frozen remains of a boy who swallowed an alien slug (that's right, operator) back in 1959. The corpse thaws, the space slugs are unleashed on campus, and.....AAAAAAHHHHHH!!!!!! You gotta love a low-budget scarefest that names all of its characters after horror-film directors: Romero, Cronenberg, Cameron, Landis, Hooper, Raimi, and on into the night. And what would a "retro" terror flick from the 1980s be without the supporting-cast presence of the ubiquitous Dick Miller?
more
Cast
News & Interviews for Night of the Creeps
Critic Reviews for Night of the Creeps
Audience Reviews for Night of the Creeps
½
Night Of The Creeps is a wonderful tribute to all the classic horror films of the 1950's. Directed by Fred Dekker, Night Of The Creeps is a wonderful B movie that contains so many references to other horror films and directors, it's impossible to hate. For example, ever character is named after a famed horror director and the plot itself could have been a film made in the 50's. The film works so well, and is constantly fun, horrifying, cheesy and above amusing. Watching Night Of The Creeps, you're guaranteed to have a good time. The actors here are wonderful and one performance stands alone, that of Tom Atkins as the sarcastic cop, Ray Cameron. Sure, Night Of The Creeps may not be that original, but man is it a fun, and entertaining horror film. The film succeeds at capturing the feel of the 50's classics. Night Of The Creeps is a memorable horror film that because its an homage to old horror flicks, it makes it more enjoyable and you come to appreciate how derivative it is. Night Of The Creeps is all good fun, and is a terrific film. Fred Dekker has crafted a fine horror film that will appeal to every horror fan because it pays tribute to so many films and directors in the process, that one cannot help but enjoy the creative aspect behind the film. Night Of The Creeps is an essential film to watch during the Halloween season and overall is one of best horror films of the 1980's.
½
Oh how I love these tacky cheesy old 80's 'video nasty' horror's hehe the stuff of late night legend when your parents were out with friends for the evening and you were alone with the babysitter who was slightly too young and had no idea how to really care for you lol!!

This is just what you ordered for retro crapola, the effects are now abit iffy but still amusing and quite effective for the film (kinda), its just nice to see makeup and real handmade craftsmanship for the blood n gore instead of cgi boredom. The plot of course is out there and I don't think I even need to go into it, cast are pretty much unknowns accept for 80's legend Jason Lively who is OK, the rest are just the usual teen fodder. Its decent enough and was pretty scary back in the day but now its like watching funny archives :) worth alook for the makeup.
Night of the Creeps Quotes
J.C. Hooper: Cynthia...my time is limited...umm much like the intellect of Steve... Now you see that attractive gentleman over there? While I'm his agent...and it is vital that I obtain this information....you see uhh... the fate of the entire free world hangs in the balance.
Cynthia Cronenberg: ...and why didn't he ask me himself?
J.C. Hooper: Tell him that!
Ray Cameron: I've got good news and bad news, girls. The good news is your dates are here.
Sorority Girl with Hairbrush: What's the bad news?
Ray Cameron: They're dead.
Ray Cameron: It's Miller time!
J.C. Hooper: (infected) Chris. There's one inside me. It got in through my mouth. I can feel it. It's in my brain. I don't have a pulse or a heartbeat. I think I'm dead. I killed one. I lit a match to it. I think fire will kill them. I've gone to the furnace room, the basement. If I don't come back, heat will kill them. I walked, Chris. All by myself, I walked. I love you. Good luck with Cynthia.
Discussion Forum
Discuss Night of the Creeps on our Movie forum!
News & Features