Nudist Colony of the Dead
(1991)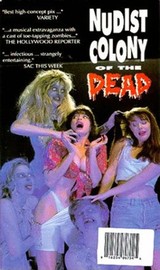 Want to See
Critic Consensus: No consensus yet.
Movie Info
A group of naturists open a nudist camp near a small town, but local religious fanatics pressure the authorities to close the camp down. The nudists are so ashamed and outraged by this act that they commit mass suicide -- but not before vowing revenge on the zealots who had their camp closed. Five years later they return as zombies to the site -- now a church summer camp -- and start killing off the campers.
more
Cast
News & Interviews for Nudist Colony of the Dead
Critic Reviews for Nudist Colony of the Dead
All Critics (1) | Fresh (1) | Rotten (0)
Some movies are so bad they're good. This one tries to hit that spot, yet fails so much even at that, that it somehow transcends utter ill-judged ineptitude and attains a new bizarro level of brilliance.

Audience Reviews for Nudist Colony of the Dead
½
For the obvious lack of budget to shoot this movie, the makeup effects are not really that bad. funny catchy songs. Campy- but not very much nudity. a little bit of T but really no A, Sound quality is not the best.

If your in for something differant- I would recommend this- but dont come with high expectations
Kellie Friedberg
½
These are some more films that can't be rated directly on the page. To be updated until the max of 5 is reached.

Prey- Though it has surprisingly good production values for a straight-to-video horror such as shooting in Africa, an abundance of vehicles, and trained lions, the movie is essentially Cujo in Africa and it is painfully formulaic and uninteresting at parts.

Jungle Holocaust/Last Cannibal World- A campy cannibal film that is commendible for its relative lack of redshirts and needless gore; manages to create somewhat of an atmosphere and feels like more of an adventure than most cannibal films.

Nudist Colony of the Dead- Despite featuring no full-frontal, the film is still the funniest comedy I have seen in a very long time; one of the most absurd, side-splitting musicals you are ever likely to see.

Massacre in Dinosaur Valley- Although I was expecting cheap stop-motion dinosaurs, the film was instead about a paleontologist who finds himself immersed in a nudity-rife Amazon adventure that is both campy and fun.

Futurama: Bender's Big Score- Though a minor disappointment compared to the potential of a feature length Futurama film, it is still an entertaining bit of fan service that is on-and-off funny and ultimately saved by a touching twist.
Rob Gorman
Discussion Forum
Discuss Nudist Colony of the Dead on our Movie forum!
News & Features