Operation Petticoat
(1959)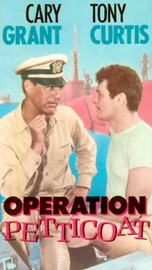 Tickets & Showtimes
Operation Petticoat Trailers & Photos
Movie Info
Rear Admiral Matt Sherman (Cary Grant) visits the submarine Sea Tiger on the morning of its decommissioning and reminisces about his time as the first commander of the boat, in 1941. Three days after Pearl Harbor, the sub is damaged during an enemy air raid in the Philippines; rather than abandoning her, Sherman and his chiefs refloat the boat. He's forced to accept the services of Lt. (jg) Nick Holden (Tony Curtis), who has no sea experience. Sherman appoints Holden -- a born conniver, deal-maker, and scrounger (his motto: "In confusion, there is profit") -- as supply officer, and through a series of burglaries and petty thefts he gets the Sea Tiger seaworthy again. Up to this point, the movie is an increasingly amusing service comedy, akin to the lighter moments of Mr. Roberts, running on Grant's wry exasperation and Curtis's cool arrogance, coupled with Arthur O'Connell's periodic sardonic yet optimistic jabs at their situation and Gavin MacLeod's fidgety nervousness. The Sea Tiger puts to sea ahead of the Japanese with a quintet of stranded army nurses aboard. The film shifts to a new level of humor as the officers and crew try to cope with living in close quarters with five attractive women in their midst. Grant gives a very witty performance as a man who is both exasperated by the situation he is in, having to adjust his masculinity to keep it from clashing with the feminine sensibilities of his guests, and also trying to control the mating urges of his men, starting with Holden, who can't stay away from Lt. Duran (Dina Merrill). Complicating matters more is Grant's awareness that the Sea Tiger is a "virgin" -- she has never engaged the enemy, but when they finally do, the accident-prone Lt. Crandall (Joan O'Brien) causes their torpedo to miss a tanker and sink a truck (probably the funniest sight gag in the movie). The boat also gets an accidental coat of pink paint when their supply of red and white runs low, and ends up carrying several Filipino families -- including two pregnant women. Since neither the Japanese nor the Americans officially has a pink submarine, the Sea Tiger ends uphunted by both sides and come under attack by an American destroyer. That's where the women's presence becomes a godsend. The movie ends 18 years later, with Holden a serious career navy man and responsible father, married to Duran, and Grant married to Crandall, who is as accident prone as ever.
more
Cast
News & Interviews for Operation Petticoat
Critic Reviews for Operation Petticoat
Audience Reviews for Operation Petticoat
½
Another enjoyable WWII comedy from Cary Grant, and Tony Curtis provides some able support as a hustler who turns his now bright pink submarine into a refugee camp for the inevitable romantic interest. Formulaic but fun.
Operation Petticoat Quotes
Adm. Matt Sherman: Lt. Holden has reached new heights in the art of scavenging. Like a spider in a web, he sits there and his victims come to him like flies bearing gifts. He's the only man I know who will probably be presented the Navy Cross at his court martial.
Capt. J. B. Henderson: Mr Sherman, I want my wall back!
Adm. Matt Sherman: I'm not sure that we have it, Sir!
Capt. J. B. Henderson: You must have it! You've got everything else!
Adm. Matt Sherman: 19 December 1941: Repairs progressing. Crew morale high, except for their concern that our supply officer might be caught and shot. My emotions about this are mixed. Lieutenant Holden and Sergeant Gallardo are undoubtedly the world's greatest thieves-- ..scavengers. To paraphrase Mr. Churchill: 'Never have so few stolen so much from so many....' And what they can't find in the warehouses, they improvise.
Adm. Matt Sherman: Subject, Toilet paper. One: on 6 June 1941, this vessel submitted a requisition for 150 rolls of toilet paper. On 16 December 1941 the requisition was returned with stamped notation, 'Cannot identify material required.' Two: the commanding officer of the USS SeaTiger cannot help but wonder what is being used at the Caviti Supply Depot as a substitute for this unidentifiable material once so well known to this command.
Discussion Forum
Discuss Operation Petticoat on our Movie forum!
News & Features