Patriot Games
(1992)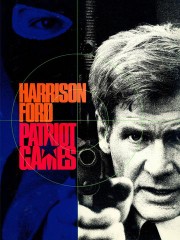 Patriot Games Trailers & Photos
Movie Info
In Patriot Games, Harrison Ford plays former CIA agent Jack Ryan, taking over from Alec Baldwin, who had played author Tom Clancy's brainy protagonist in Hunt for Red October. This time around, Ryan foils an attempted assassination, thereby incurring the wrath of a maniacal Irish radical (Sean Bean). After seemingly neutralizing the villains, and deciding to celebrate the occasion with his wife (Anne Archer) and daughter (Thora Birch), everything appears to be back to normal; then all hell breaks loose. Author Tom Clancy himself bemoaned the liberties taken with his novel in the final sequences; the picture scored with audiences, however, and soon inspired a followup, A Clear and Present Danger (1994), also starring Ford.
more
Cast
News & Interviews for Patriot Games
Critic Reviews for Patriot Games
Audience Reviews for Patriot Games
Harrison Ford's first Jack Ryan movie is a convincing action thriller. While some parts feel a bit simplified, probably even more so when compared to the novel, the film still flows perfectly and has you on the edge of your seat, especially during the really exciting showdown. One might say with a cast of names like this nothing can go wrong but the good direction should get its credits as well. Also: There's just something really satisfying about seeing Harrison Ford all pissed and ready to strike back in bloody revenge.
½
Having recently seen Salt, by director Phillip Noyce, I became curious to find out what other movies he's made. So I did what I always do when in need of such info: I turned to IMDB. It was then that I stumbled upon this film. A thriller not unfamiliar to me, but one I've (for some reason or another) neglected until now. At any rate, there's a lot to like about the cast in this film. Not only does it star one of my all-time favourite actors, Harrison Ford, but it also includes a superb Sean Bean, and great supporting roles by actors like James Earl Jones and Samuel L. Jackson. That in hand with some riveting drama bits and suspenseful action scenes, makes this into (to use a military metaphor) another medal on Phillip Noyce's uniform. Maybe not a golden one, but shiny nevertheless.
Discussion Forum
Discuss Patriot Games on our Movie forum!
News & Features