The Pianist
(2002)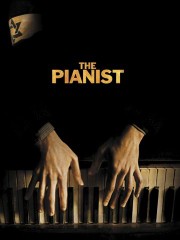 The Pianist Trailers & Photos
Movie Info
An adaptation based on the autobiography of the acclaimed Polish composer, Wladyslaw Szpilman, who detailed his survival during World War II, and narrowly escaped a roundup that sent his family to a death camp. A composer and pianist, Szpilman played the last live music heard over Polish radio airwaves before Nazi artillery hit. There, in Poland, Szpilman struggled to stay alive--even when cast away from those he loved. He spent the duration of the war hiding in the ruins of Warsaw and scavenging for food and shelter. Szpilman eventually reclaimed his artistic gifts, and confronted his fears--with aid from the unlikeliest of sources.
more
Cast
News & Interviews for The Pianist
Critic Reviews for The Pianist
Audience Reviews for The Pianist
½
A fine film; worth watching.
Hard to watch and heartrending but also masterfully made.
The Pianist Quotes
Wladyslaw Szpilman: What are you reading?
Henryk: If you prick us, do we not bleed? It you tickle us, do we not laugh? If you poison us, do we not die? And if you wrong us, shall we not revenge?
Wladyslaw Szpilman: [seeing that it is Shakespeare's 'The Merchant of Venice'] Very appropriate.
Wladyslaw Szpilman: I don't know how to thank you.
Captain Wilm Hosenfeld: Thank God, not me. He wants us to survive. Well, that's what we have to believe.
Wladyslaw Szpilman: Halina
Halina: What?
Wladyslaw Szpilman: It's a funny time to say this..
Halina: What?
Wladyslaw Szpilman: I wish I knew you better
Halina: Thank you.
The father: One caramel for 20 zloytas? Fine, we will split it.
Discussion Forum
Discuss The Pianist on our Movie forum!
News & Features