Pin
(1988)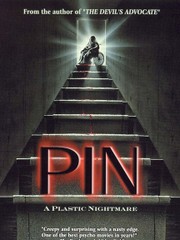 AUDIENCE SCORE
Critic Consensus: No consensus yet.
Tickets & Showtimes
Movie Info
The title character in the Canadian Pin isn't a who but a what: a transparent medical teaching dummy. Pin is owned by doctor Terrance O'Quinn, who with the help of ventriloquism uses the dummy to transmit delicate facts of life to his children. O'Quinn's son David Hewlett loves Pin as much as anyone can love an inanimate object--until he witnesses his father's nurse simulating a sex act with the dummy. This traumatic experience is the first step in Hewlett's mental and emotional disintegration. The film then ventures in Psycho territory, so perhaps it's best not to reveal any more.
more
Cast
News & Interviews for Pin
Critic Reviews for Pin
All Critics (1) | Top Critics (1) | Fresh (0) | Rotten (0) | DVD (2)
New York Times
Top Critic
Audience Reviews for Pin
½
This horror movie is predictable and not really scary at all. It may be slightly creepy at times, but that's it. I wouldn't recommend this movie, but it's not too bad, it's so-so.
½
The eighties produced a lot of horror films that were clearly made just for people to rent on Friday nights to ignore while they had a few beers and a laugh with their mates. While most of these films were instantly forgettable, some were actually quite good and unfortunately have been forgotten along with the forgettable ones. Pin is one such film. While the movie isn't a horror classic, and it takes essential elements from a range of sources, most notably Psycho; it still represents a good success in the psychological horror sub-genre. So, if you like your films to be dark and moody; you can go wrong here! Based on a best seller by Andrew Neiderman, Pin blends the story of a young boy growing up with murderous schizophrenia to horrifying effect. The plot follows a brother and sister, Leon and Ursula, whose father uses ventriloquism and an anatomical dummy as a learning tool for his children. What he doesn't count on, however, is Leon taking this act too seriously and believing that the dummy really is alive. A childish idea that leads to a very dark future for Leon.

While the film lacks any real potent bite, it blends it's elements together with a good plot pace well enough to ensure that the film always offers compelling viewing and although the action gets a little predictable at times, we always want to carry on watching to see what happens. The dummy itself is the centrepiece of the film and director Sandor Stern has managed to create a malevolent atmosphere around it. The thing looks creepy anyway, but when combined with it's put-on voice; I can imagine it giving some more easily scared viewers nightmares. Ventriloquism is a hobby that has always lent itself well to horror movies; from the dummy tale in 'Dead of Night', to this film and more; you can always count on a creepy movie if one of it's core subjects is the act of someone lending their voice to a plastic doll. The acting in the film is typically eighties; but it's not all that bad considering the type of movie that this is. On the whole; Pin is a nice atmospheric chiller that deserves more attention, so if you get the chance to see it; I highly recommend that you do!
Discussion Forum
Discuss Pin on our Movie forum!
News & Features