Pixels
(2015)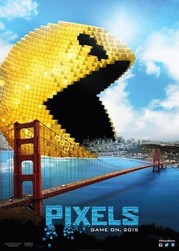 TOMATOMETER
AUDIENCE SCORE
Critic Consensus: Much like the worst arcade games from the era that inspired it, Pixels has little replay value and is hardly worth a quarter.
Tickets & Showtimes
Pixels Trailers & Photos
Movie Info
As kids in the 1980s, Sam Brenner (Adam Sandler), Will Cooper (Kevin James), Ludlow Lamonsoff (Josh Gad), and Eddie "The Fire Blaster" Plant (Peter Dinklage) saved the world thousands of times - at 25 cents a game in the video arcades. Now, they're going to have to do it for real. In Pixels, when intergalactic aliens discover video feeds of classic arcade games and misinterpret them as a declaration of war, they attack the Earth, using the video games as the models for their assaults -- and now-U.S. President Cooper must call on his old-school arcade friends to save the world from being destroyed by PAC-MAN, Donkey Kong, Galaga, Centipede, and Space Invaders. Joining them is Lt. Col. Violet Van Patten (Michelle Monaghan), a specialist supplying the arcaders with unique weapons to fight the aliens.(C) Sony
more
Cast
News & Interviews for Pixels
Critic Reviews for Pixels
Audience Reviews for Pixels
½
Pixels is an alien invasion thriller with childlike sensibilities, which makes little sense since the only people who can appreciate 80's arcade games are all adults now. Also, it's just not funny.

The inherit problem is that it doesn't seem to please any demographic. 90% of the humor doesn't appeal to a mature audience, (or anyone with a decent sense of humor) also the story and characterization of cast members much too basic to receive any sort of commendable phrase.

Yet if it were a children's film a lot of the rudimentary themes and formulas used would be acceptable, but we're constantly reminded that this is in fact adult entertainment.

Pixels isn't devoid of creativity and paints an original premise but fails in recognizing the audience that it's meant to capture culturally. Terms and ideas used in the movie are simply dated. Nerd as a derogatory term? Being good at video games is a waste of time? It's 2015, nerds are the new cool and we have e-sports with Pro gamers earning millions in winnings.

It's pretty obvious that the idiots behind this project were just attempting to cash in on the geeky pop culture surge of recent but have no idea what the surge is actually about.

If you're looking for sparkly visuals on the movie screen, sure it might be worth a bit of your time but all in all Pixels is an out of touch would-be children's film mired with irrelevant adult themes and lazy acting by Sandler, squandering the efforts of his talented co-stars.
No laughs, no wit, no charm and no better than the recent Happy Madison atrocities.
Pixels Quotes
Eddie "The Fire Blaster" Plant: I made your game my bitch.
Sam Brenner: Oh, God no!
Lt. Col. Violet Van Patten: Oh, God no what?
Ludlow Lamonsoff: He ate the power pellet. That means Pac-Man has only ten seconds before he eats us!
Sam Brenner: I'm Donkey Kong Champion of the world.
Lt. Col. Violet Van Patten: And the Donkey Kong Champion of the world doesn't need patterns.
Sam Brenner: Reset button!
Eddie "The Fire Blaster" Plant: Guards, get me outta here! It's that mean Centipede killer! I hope he don't zap me with his space gun!
Sam Brenner: How are you, Eddie?
Eddie "The Fire Blaster" Plant: Sup, Second Place? Oh, and your sidekick here! Presidonut! I didn't know you could have an approval rating so "catatastrophic!"
Discussion Forum
Discuss Pixels on our Movie forum!
News & Features