Ponette
(1996)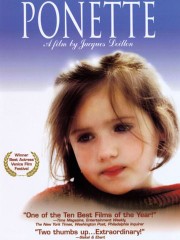 Tickets & Showtimes
Ponette Trailers & Photos
Movie Info
A four-year-old girl must come to terms with the loss of her mother and the reality of death in this award-winning French drama. Little Ponette (Victoire Thivisol) is riding in a car with her mother when they're involved in a serious accident; Ponette survives, but her mother does not. Her father (Xavier Beauvois) initially reacts with anger over his late wife's careless driving, while her Aunt Claire (Claire Nebout) tries to comfort the child by telling her about Jesus and the resurrection. However, none of this does much to reassure Ponette or clarify her confusion about the practical realities and spiritual dilemma posed by death. In time, Ponette and her cousins Matiaz (Matiaz Caton) and Delphine (Delphine Schiltz) are sent off to boarding school, where they have to resolve their confusion and loss on their own. Writer and director Jacques Doillon carefully coached Victoire Thivisol (who was too young to read the screenplay) through her performance; the results earned the child Best Actress honors at the 1996 Venice Film Festival.
more
Cast
News & Interviews for Ponette
Critic Reviews for Ponette
Audience Reviews for Ponette
Randy Tippy
Super Reviewer
This movie is so beautiful and touching. the star (Victoire Thivisol) is an AMAZING actress, The performances (especially the children's) are so real and natural that it's almost like watching a documentary.
A truly touching movie with brilliant acting by some of the most talented young actors I've ever seen. At the time this French film was produced, its protagonist was played by a 4-year old actress who carries this film on her small shoulders and carries it extremely well and better than most adult actors can only dream of carrying a film. The story is of an extremely sad nature and is very telling of how amazing these tiny thespians really are. To be able to act in a drama that deals with loss and tragedy and demands them to express a great amount of emotion not only showcases talent, but sucks you into the lives of these characters and makes you feel what they feel. By empathizing with a little thing like Ponette, you really feel for her and root for her until the very end. NOTE: French with English subtitles.
Discussion Forum
Discuss Ponette on our Movie forum!
News & Features