Potiche
(2011)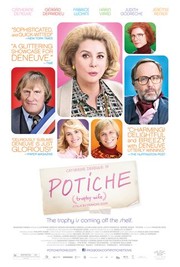 Tickets & Showtimes
Potiche Trailers & Photos
Movie Info
Set in 1977 in a provincial French town, POTICHE is a free adaptation of the 1970s eponymous hit comic play. Catherine Deneuve is Suzanne Pujol, a submissive, housebound 'trophy housewife' (or "potiche,") who steps in to manage the umbrella factory run by her wealthy and tyrannical husband (Fabrice Luchini) after the workers go on strike and take him hostage. To everyone's surprise, Suzanne proves herself a competent and assertive woman of action. But when her husband returns from a restful cruise in top form, things get complicated. Gérard Depardieu plays a former union leader and Suzanne's ex-beau who still holds a flame for her. Acclaimed writer-director Francois Ozon ("Swimming Pool," "Under the Sand," "Time to Leave,") who had previously directed Ms. Deneuve in the international hit "8 Women," twists the original play on its head to create his own satirical and hilarious take on the war between the sexes and classes. POTICHE reunites French cinema legends Catherine Deneuve and Gérard Depardieu in an ensemble cast that includes comic greats Fabrice Luchini and Karin Viard (as Luchini's secretary and mistress,) while Judith Godreche and Jérémie Renier play the Pujols' entitled daughter and sexually ambiguous son. The impeccable 1970s era set design and costumes, were created by Katia Wyzkop and Pascaline Chavanne, respectively. -- (C) Music Box Films
more
Cast
News & Interviews for Potiche
Critic Reviews for Potiche
Audience Reviews for Potiche
½
French performers Catherine Deneuve and Gerard Depardieu are two household names in their native France but also familiar with English speaking filmgoers. Basically, they've been around and have delivered an incalculable amount of great performances throughout their careers. This is a film that brings them both together (although not for the first time) and serves as a reminder of how skilful and commanding they are on screen.
Suzanne Pujol (Catherine Denueve) is a "Potiche" - a decorative, trophy wife - who runs a household, while her husband Robert (Fabrice Luchini) runs the family umbrella factory and philanders with his secretary. A workers strike breaks out which leads to Robert having a heart attack and while he recuperates, Suzanne reluctantly takes control of the family business with her two adult children. However, Suzanne is more shrewd and clever than given credit for and she manages to regain the trust of the workers and turn the fortunes of the business around while steadily gaining respect from numerous corners of society including Maurice Babin (Gerard Depardieu), the influential Mayor.
It takes a little time to work up to "Potiche" as it's very dialogue driven. So much so, that it's quite difficult to keep up with the subtitles and it's constant stream of verbal exchanges. However, it's confidently handled and when it does get going it throws in many facets of an individuals life and the complexities and challenges that life throws at us all.
Where it's strengths lie is in it's perfectly pitched commentary on the struggle that women faced throughout the 1970's in order to achieve the same equality as men. Denueve's Suzanne Pujol is the perfect embodiment of a woman hanging up her apron and reclaiming her respect and dignity. It also shows a balance between the strength and vulnerability involved in such a time; on the surface, Suzanne is seen as weak yet she grows in confidence and even considers divorcing her husband. Meanwhile, her daughter Joëlle (Judith Godrèche) is seen as strong and independent yet ultimately can't bear to be alone. One of the few decent male figures is Suzanne's son, Laurent (Jérémie Rénier). He's a prominent supporting character and even though he's male and serves as his mothers rock, he seems to carry a certain femininity. This is one of the many clever little devices that provide this film with an astute commentary of the politics and the cognitive shift between the sexes during the 1970's.
The only issue I had was the pacing; despite the wonderful story, quirky humour and solid performances, it fails to completely hold your attention. This is a small gripe but still one that I couldn't ignore. If it delivered itself with a bit more urgency, then this would have been top class.
A subtly handled little dramatic comedy that manages to incorporate many facets of life and has a sumptuous rendering of the 70's era. It could have been tighter but it's still a lot of fun.

Mark Walker
A really charming and colourful comedy which shows that a 67-year-old Catherine Deneuve has lost none of her star power.
Potiche Quotes
Suzanne: My management style is warm, fair, human.
Suzanne: How did it go with the German buyer?
Babin: Get off my back, Suzanne.
Discussion Forum
Discuss Potiche on our Movie forum!
News & Features