Race
(2016)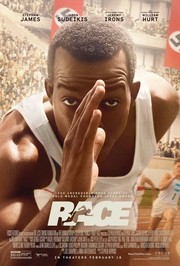 TOMATOMETER
AUDIENCE SCORE
Critic Consensus: Race is nowhere near as thrillingly fleet or agile as its subject, but the story -- and a winning central performance from Stephan James -- are enough to carry it over the finish line.
Race Trailers & Photos
Movie Info
Race is based on the incredible true story of Jesse Owens, the legendary athletic superstar whose quest to become the greatest track and field athlete in history thrusts him onto the world stage of the 1936 Olympics, where he faces off against Adolf Hitler's vision of Aryan supremacy. Race is an enthralling film about courage, determination, tolerance, and friendship, and an inspiring drama about one man's fight to become an Olympic legend. (c) Focus
more
Cast
News & Interviews for Race
Critic Reviews for Race
Audience Reviews for Race
In 1936, Jesse Owens (Stephen James) is an American track star that seems destined for magnificent glory. Under the guidance of his coach, Larry Snyder (Jason Sudeikis), from THE Ohio State University, Owens is smashing track and field records. The culmination of his athleticism occurs at the Berlin Olympics, where Owens earns multiple gold medals and shows Adolph Hitler just how masterful his master race is.

It's difficult to declare Race a bad movie but it's so formulaic and by-the-numbers that I walked away thinking that Jesse Owens deserved a better movie. I kept waiting for the movie to properly communicate the totality of what Owens accomplished, let alone in a time period where the culture at home told him he was an inferior American citizen, and it just never coalesced into a stronger message. We're talking about a man who bested the best of the world in front of Hitler. This is ready made for cinematic drama, and perhaps that's the problem with the screenplay by Joe Shrapnel and Anna Waterhouse (Frankie & Alice) because it always seems to fall back on the lazy and expected choice. Part of this is the reality that Owens was just that good as a runner; we only see him lose once in the entire movie. This anticlimax makes it difficult to stir up plenty of suspense around the larger and larger stages for the sports triumphs. The knowledge of Owen's wins may be commonplace but we should still feel the stirrings of good storytelling and payoffs to well-established work, and that's just not there. I loved watching the deluge of unhappy Nazi reaction shots to Owens' victories (never enough footage of unhappy Nazis) but that doesn't count as a satisfying conclusion to Owens' story.

The character of Owens is somewhat lost in Race. It's reminiscent of the Jackie Robinson biopic 42 where the character of Robinson was kind of, well, boring. He's a character who endures the suffering and indignities of others and perseveres, and this is likely why both films turn their stories of African-American tales into buddy pictures with Strong and Supportive White Men. Much of Race is presented as a buddy picture with Owens and Snyder, and both actors have such an amiable chemistry that they sort of treat the entire movie like a laid back adventure. They're easing on through a segregated America and having their buddy adventures. Too much of the movie is Owens and Snyder just cracking wise and going from scene to scene. James left a stronger impression as John Lewis in last year's Selma. He's to often merely stoic without more to work with. Sudeikis (We're the Millers) is right in his comfort zone with his performance and doesn't stray far from his range. I credit the film for not ignoring some of the messier parts of Owens' story, namely his out-of-wedlock young daughter and him cheating on his hometown girl with a fame-seeking starlet. He's allowed to be seen making mistakes, but the movie doesn't allow him to live with them (note: not referring to his daughter as a "mistake"). Whenever Owens might be in a horrible predicament from his own internal decision-making, the movie almost callously breezes by without much contemplation. It's as if every conflict is in service to the Main Conflict - sticking it to Hitler. The pressure to bow out of the Olympics to make a statement about the treatment of black people in America could have been a soul-bearing moment, but we just move along and barely feel the weight of the pressure. Yes, we know that Owens will travel abroad and win golden glory, but make the decision count.

Another aspect that dooms Race to its limited appeal is the mediocrity of its direction and, in particular, how shockingly terrible the movie is edited. Director Stephen Hopkins seems to have been in movie jail ever since 1998's Lost in Space. He's only shot one movie between that bomb and Race, which happened to be The Reaping, a 2007 movie I almost liked by its twist ending. He doesn't exactly bring much to the material to elevate the races or seem that interested in taking advantageous of the suspense opportunities. There's one great sequence where Owens first enters the Olympic stadium and the camera tracks his movements where you feel the awe. There aren't enough moments like this that take full advantage of telling Owens' story in a visual medium. The other technical misstep is that this is one of the worst edited movies I've ever watched in a theater. If you generally pay attention to the editing, it's generally a bad sign since it's a facet of filmmaking that is best made invisible. There is one sequence where Owens sits in Snyder's office and the 180-degree rule is broken over ten times... in one scene! The editing will frequently flip is scene orientation, jumping back and around and creating subtle visual compositions that create incongruity in the brain. Part of this blame deserves to be laid with Hopkins, who chose to shoot his film at these uncooperative angles. It was something that bothered me throughout and would rip me out of the movie.

The most perplexing storyline in Race involves the very positive treatment reserved for a controversial filmmaker, Leni Riefenstahl (Carice van Houten), best known for her propaganda films declaring the power and righteousness of Hitler's Third Reich. Huh, why does a movie celebrating American heroes spend do much time positively portraying a Nazi propagandist? She becomes a translator for Goebbels and the American Olympic committee, but she's also determined to have her vision respected when it comes to her Olympic documentary that is being produced by the Nazis. She doesn't seem to mind about Owens trouncing the Aryan myth of racial superiority because she just wants to make the best movie and Owens is her storyline. She is portrayed as a sympathetic go-between for the Americans, someone fighting within a corrupt system to maintain her dignity and ownership in an industry that is dominated by men (she's criticized for wearing "masculine" clothing). I'll admit a general ignorance to Riefenstahl's life and career outside of her most famous documentaries, which I should continue to stress are Nazi propaganda films, but this woman was a member of the Nazi party and responsible for some of the most indelible and damaging imagery justifying Hitler's genocide, and to prop her up as a character worth rooting for and a champion to Owens just felt wrong.

Has there ever been a more self-satisfied yet facile title than Race? The double meaning is a bit too obvious and yet simple enough to be annoying. In a way, the title encapsulates the movie as a whole. It's well-meaning but far too by-the-numbers and satisfied that it's doing Important Work honoring an American sports legend when it's barely giving us much of a reason to care about him as a person and less reason to root for him other than added Nazi discomfort. Owens becomes a boring centerpiece in his own movie, and his relationship with Snyder feels too ill defined, repeatedly approaching buddy comedy. The historical asides are momentarily interesting but don't add up to much. The movie has some strikingly awful editing and lackluster direction that hobbles the storytelling. It's a movie that hits all the checklists for sports biopic but won't veer to far from its predicated formula. There's a short scene at the very end that hints at what kind of better movie Race might have been. After his worldwide validation at the Berlin Olympics, Owens comes home to America and is forced to use the service entrance for his own honorary dinner. This American hero has to shamefully take the back entrance to be celebrated. It's a stark wake-up call just how far the country had to go as far as race relations. This national cognitive dissonance, celebration and segregation, would be ripe for a searing human drama with plenty of emotion. That would be a good movie. Race is only an okay movie, and given Owens' place in history, that's not good enough.

Nate's Grade: C+
Nate Zoebl
Super Reviewer
½
Though often rendered lead-footed from an athletic affliction called heavy-handedness, filmgoers will nonetheless be pleased to know that something's runner's afoot in this wannabe feelgood biopic that gets a decent amount right in relaying the storied life of the Olympic and Civil Rights champion. It's Black History Month and our country can definitely use a civics lesson on the subject if recent events such as those dealing with Trayvon Martin and Ferguson, MO stand testament. Certainly, the fascinating and historic events surrounding Owens (his winning 4 Gold Medals despite the potentially soul-crushing weight of racism he shouldered both home and abroad) deserve the full cinematic treatment...well, maybe not 'full.' So much good, bad, and ugly moments happen in the subject's life that one movie alone can't paint a whole portrait (the only other Owens bio-pic, a nearly three-hour 1984 Made-for-TV Movie starring Dorian Harewood, seemingly bit off more than it could chew in trying to do just this. Race, on the other hand, smartly tries to focus on the college years leading up to the big event, which alternately and unfortunately causes the story to bypass major hurdles (picking cotton as a child, cheating on the mother of his child, dealing with fame) in a quick - almost belittling - single bound.

In this PG-13-rated drama, Jesse Owens' (Stephens) quest to become the greatest track and field athlete in history thrusts him onto the world stage of the 1936 Olympics, where the African-American faces off against Adolf Hitler's vision of Aryan supremacy.

Like in recent Jackie Robinson biopic 42, director Stephen Hopkins also relies on sugar-coated grandstanding tricks like using an over-powering swoon-inducing score and slow motion captures of the defining moments to clue the audience into the fact that it's time to be awe-inspired and slack-jawed. For more better than worse, however, Joe Shrapnel and Anna Waterhouse's ambitious script interestingly pulls focus from Owens to give time to some of the figures who informed this period of the man's life (coach Larry Snyder, Nazi documentarian Leni Riefenstahl, controversial Olympic committee liaison Avery Brundage). We're already in a sprint toward a finish line with a great distance to cover and yet including these characters somehow colors in-between the lines of this cypher somewhat more. As antiseptic and string-tugging as Race ends up to be, however, it also features a brave lead performance in Stephan James, who truly captures our imagination even while the real-life he's portraying becomes somewhat imaginative.

Bottom line: Chariots of Fuhrer
Race Quotes
Jesse Owens: Nothing matters. Not color, not money, not even hate.
Jesse Owens: Out there there ain't no black or white, just fast or slow.
Jesse Owens: I got people lookin' at me for an example.
Jesse Owens: You got a problem coach? Want me to do it again?
Discussion Forum
Discuss Race on our Movie forum!
News & Features