Repo! The Genetic Opera
(2008)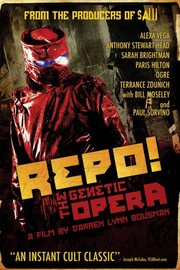 TOMATOMETER
AUDIENCE SCORE
Critic Consensus: Bombastic and intentionally gross, Repo! The Genetic Opera has a unique style but lacks the wit and substance to be involving.
Repo! The Genetic Opera Trailers & Photos
Movie Info
Saw series mainstay Darren Lynn Bousman reunites with Twisted Pictures producers Oren Koules and Mark Burg for this futuristic shocker detailing a terrifying epidemic of organ failures. The denizens of planet Earth have been devastated by inexplicable and widespread organ failures, and as a result scientists begin planning a substantial organ harvest. Though an innovative biotech conglomerate subsequently offers the fearful public a means of maintaining their health by enacting a series of hassle-free organ payment plans, things begin to get messy when it's revealed that the financed body parts are subjected to legal default, and that failure to maintain proper payment will result in forceful repossession of the organs. Paul Sorvino and Spy Kids' Alexa Vega star alongside celebrity socialite Paris Hilton in the Lionsgate film. ~ Jason Buchanan, Rovi
more
Cast
News & Interviews for Repo! The Genetic Opera
Critic Reviews for Repo! The Genetic Opera
Audience Reviews for Repo! The Genetic Opera
I enjoyed the concept of Repo! The Genetic Opera, however this film doesn't rival The Rocky Horror Picture Show. The film is very elaborate and effective, and does have good music. The film was directed by Darren Lyn Bousman who previously cut his teeth on a few Saw films. Produced by Twisted Pictures, Repo! The Genetic Opera is a good enough, modernized horror musical with plenty of gore for today's new breed of horror fans. I enjoyed this film, however I felt that it wasn't especially great, I thought that it would be very good, considering some of the review in horror circles, but I felt slightly disappointed in the film. Not saying that it's bad, quite on the contrary, I'm just saying that this film was slightly overhyped. Repo! will surely please gore fans, as the film doesn't lack in blood and gore. The songs are good, and Paris Hilton's screen time isn't too bad either (surprisingly), this film is a good enough film to watch, or despite the fact that it's not as good as The Rocky Horror Picture Show, Repo! The Genetic Opera is still a memorable viewing experience. If you've enjoyed the Saw films, then you'll most likely going to enjoy this film. A good blend of music, horror and plenty of gore make this a must see for horror fans. Repo! The Genetic Opera is a fairly eccentric musical, but considering the horror aspects of the film, what do you expect? An interesting addition to the horror musical genre, Repo! The Genetic Opera is a film that will stick you for some time.
½
Shilo Wallace: Why oh why are my genetics such a bitch?

"Not Your Parent's Opera"

Repo! The Genetic Opera is not nearly as bad as the plot description may indicate. It actually has a pretty cool and atmospheric feeling to it, but I would be lying if I said I didn't grow tired of it fairly quick. Some scenes are awesome, stylish and just just downright brilliant, but more than not the scenes are stupid and badly done.

It's a strange, strange film that isn't like anything you've seen before. It has a Nightmare Before Christmas feeling to it at times, but obviously much more violent and the songs are not nearly as good. As a short film, maybe 45 minutes, this would have been awesome, but there's just not enough there to make an hour and a half musical. The filmmakers tried to make something cool and at times it is, but in the end it will just have you saying "What the fuck did I just watch?"

Repo! is inventive and original, which is always nice, but it may have tried a bit too hard to distance itself from other movies. It's a nice try, but I didn't particularly care for it.
Melvin White
Super Reviewer
Repo! The Genetic Opera Quotes
Blind Mag: Chase the morning; yield for nothing.
Amber Sweet: So you think Mag has pipes?
Shilo Wallace: I don't think nothing at all...
Amber Sweet: When the Repo man strikes!
Shilo Wallace: What are you talking about?
Luigi Largo: [drinks his coffee] What's this, rat piss?
Shilo Wallace: I'm infected by your genetics.
Dr. Nathan Wallace/Repo Man: I am only living out a lie.
Discussion Forum
Discuss Repo! The Genetic Opera on our Movie forum!
News & Features