The Rocking Horse Winner
(1949)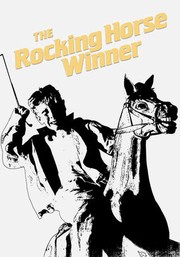 Tickets & Showtimes
The Rocking Horse Winner Trailers & Photos
Movie Info
D.H. Lawrence's tragic fable The Rocking Horse Winner is faithfully transferred to the screen in this 1950 gem. John Howard Davies, the young star of Oliver Twist (and the future chief film editor at the BBC) plays sensitive lad Paul Grahame, whose selfish, grasping mother (Valerie Hobson) warps his values. When his mom once more whines over her lack of wealth, the boy retreats to his new Christmas present, a hobby horse. Having been taught to ride like a real jockey by kindly handyman Bassett (John Mills), Paul furiously bobs up and down on his horse, hoping to drive his mother's words out of his brain. Instead, Paul suddenly acquires the ability to pick the names of winning race horses. Capitalizing on her son's "gift," Paul's mother becomes fabulously wealthy, only to spend the money as quickly as it comes in. Thinking only of his mother's happiness, Paul continues to ride his magical horse, which results in more lucrative racetrack predictions. Before his mother can come to her senses, the boy takes one "ride" too many, dropping dead from the exhaustion. Though essentially a dark fantasy, The Rocking Horse Winner is rendered with utter credibility by writer/director Anthony Pelissier. ~ Hal Erickson, Rovi
more
Cast
News & Interviews for The Rocking Horse Winner
Critic Reviews for The Rocking Horse Winner
Audience Reviews for The Rocking Horse Winner
Randy Tippy
Super Reviewer
a fine british adaptation of the creepy dh lawrence story about a boy who desperately rides his rocking horse in order to predict race winners to please his money obsessed mother
Stella Dallas
Super Reviewer
Lately I've been catiching up on a TV mini-series I vaguely remembered from the earlt 90's called "The Wild Palms". I haven't made up my mind about it yet. It's a science fiction piece with cyberpunk themes set in 2007 that deals with things like Virtual reaility and the so-called Japanese takeover of Western culture that either didn't happen in the way pictured here or didn't happen at all. The setting looks distressingly clean and aniseptic compared to the real 2007 and there are some obvious homages to David Lynch and the then-current Twin Peaks, like Robert Morse as a lounge singer who looks like he's about to morph into Dean Stockwell singing "A candy-colored clown they call the Sandman..." at any time. It generally has a good cast with people like Dana Delany, Robert Loggia, Kim Cattrall, Brad Dourif, David Warner and Bebe Neuwirth but I don't know about Jim Belushi of all people as the hero. There's a reason why his career has boiled down to starring on a "fat slob" TV sitcom. I haven't decided if I'll bother with the second disc of this thing or not.

I've also dug out my collection of The Phil Silvers Show to finish watching and it's fun to watch how that show evolved. In the early episodes it's just Sgt. Bilko as the archetypal con man fleecing everyone with impunity but later episodes get weirder and weirder starting I guess with the famous one where a monkey gets enlisted into the Army and has to be court-martialed to get him out. From there it's out to shows about Doberman being hypnotized to think he's in love with Colonel Hall's wife and Bilko trying to get some phenom pitcher a tryout with the Yankees. The supporting cast is fascinating to watch historically. This set includes appearances from Joe E. Ross, Fred Gwynne and Al Lewis alll of whom, of course, were important parts of Nat Hiken's next show, Car 54, Where Are You? There are also very early TV appearances by Dick Van Dyke and Alan Alda.
The funniest thing is the makeup of the platoon. To the the credit of the producers Bilko's platoon always seemed to include one black soldier but for "Doberman's Sister", where the plot called for the soldiers to all take each other's sisters on dates, a secomd black soldier mysteriously showed up because no way back then could the black soldier have dated one of his white buddies' sisters. Then again they simply could have had no black actors on that episode, so it was cool they did it that way.
Jerome Wilson
Discussion Forum
Discuss The Rocking Horse Winner on our Movie forum!
News & Features