Romper Stomper
(1993)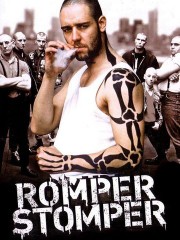 Romper Stomper Trailers & Photos
Movie Info
This controversial drama (which earned an NC-17 rating in the U.S.) was a major box-office success in its native Australia, and it made an overnight star of its leading man, Russell Crowe. Hando (Crowe) is a member of a gang of racist skinheads who lash out with violence against the growing number of Asian immigrants settling in the country. While Hando and his partner Davey (Daniel Pollock) lead a bunch of brutal, half-bright thugs, they have convinced themselves that what they do is the noble work of saving Australia for Australians (or at least the white Australians who drove the aborigines into the outback). Into this milieu comes Gabe (Jacqueline McKenzie), a troubled young woman who suffers from epilepsy and was raised in a sexually abusive environment. Gabe becomes something of a gang moll, dividing her time (and her sexual favors) between Hando and Davey, generating considerable tension between them. When the gang's favorite bar is purchased by a group of Vietnamese immigrants, Hando and Davey organize an all-out attack, little imagining that the Asians are ready and able to defend themselves. Romper Stomper was released in America in both its original, uncut form, and in an edited version that earned an R rating from the MPAA.
more
Cast
News & Interviews for Romper Stomper
Critic Reviews for Romper Stomper
Audience Reviews for Romper Stomper
Chris Weber
Super Reviewer
You've never seen anything like it.

Crazy crazy movie but a good one. Lots of fights and crazy skinheads doing some crazy stuff. The film is as strong and devilish as it comes. If you like American History and Animal Kingdom you'll probably like this one too. If you want to see an excellent historical lesson about hate and how it destroys, see Romper Stomper.


Nazi skinheads in Melbourne take out their anger on local Vietnamese, who are seen as threatening racial purity. Finally the Vietnamese have had enough and confront the skinheads in an all-out confrontation, sending the skinheads running. A woman who is prone to epileptic seizures joins the skins' merry band, and helps them on their run from justice, but is her affliction also a sign of impurity?
A horrible yet endearing film about people in pain. The neo-nazis are shown in a bad light which they most certainly should be, but the acting of some of the members make me feel sad for them that they have fallen into this path. Great performances and an amazing final scene.
Discussion Forum
Discuss Romper Stomper on our Movie forum!
News & Features