Sawdust and Tinsel
(1953)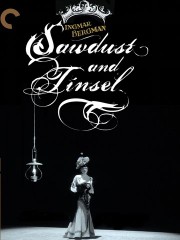 Tickets & Showtimes
Sawdust and Tinsel Trailers & Photos
Movie Info
This rich, powerful Ingmar Bergman film charts the frustrations and humiliations of several circus performers. The circus's portly owner, Albert (Ake Gronberg), recalls a humiliating incident involving the company's clown, Frost (Anders Ek), who discovered his wife, Alma (Gudrun Brost), swimming nude before a band of cheering soldiers. Having concluded his recollection, Albert visits his estranged wife, Agda (Annika Tretow), who realizes that he has made little money with his circus endeavor. While Albert endures the humiliating encounter with his wife, his jealous mistress, Anne (Harriet Andersson), retaliates by yielding to a seductive local actor, Frans (Hasse Ekman), then realizes that she has been exploited and debased. Later, the drunken Frost informs Albert of Anne's sexual indiscretion, whereupon Albert determines to thrash Anne's cynical lover. In the ensuing altercation, however, Frans manages to thwart Albert's bullish attacks and deliver a series of punishing blows. Beaten and degraded, Albert ponders suicide, then decides to avenge himself on unfaithful women by killing the company's bear, beloved by the provocative Alma, whose betrayal of Frost has so haunted Albert. Following the bear's demise, the company departs to another town. Gycklarnas Afton is full of powerful performances and staggering sequences, including the legendary flashback in which Frost finds his wife cavorting nude before the soldiers. In this scene, played with almost hysterical intensity, Frost, dressed as a clown, tearfully carries his nude wife from the water, past the soldiers, and back to the circus tent. The soundtrack's jarring contrast between sheer silence and a blaring brass band, coupled with the black-and-white cinematography's emphasis on glaring sunlight, generate a mood of considerable tension and unease. This extraordinary scene ranks among Ingmar Bergman's greatest feats and readily establishes Gycklarnas Afton as an unflinching examination of the human condition.
more
Cast
News & Interviews for Sawdust and Tinsel
Critic Reviews for Sawdust and Tinsel
Audience Reviews for Sawdust and Tinsel
½
I first, and probably, last saw this wonderful film over 7 years ago. It has not been easy to catch again and then I think that when the time since you have last seen a favourite gets too long you begin to have concerns as to whether it will live up to your memory of it. Having just watched it again I am blown away all over again. I cannot believe how much of the fantastic visuals I remembered and the extent to which the power of the film is still so affecting. There is not a wasted frame, this is pure cinema throughout. The acting is stupendous, the cinematography outstanding and the bitter sweet tale so seemingly simple, yet so devastatingly all consuming. I know Bergman has made more poetic films and more profound ones but I still think this one is hard to beat for so eloquently presenting those basic issues that matter to everyone.
A Bergman film that I had not seen but which grew on me to a large degree. It is very powerful with very griping performances. Stays with you.
Discussion Forum
Discuss Sawdust and Tinsel on our Movie forum!
News & Features