Silver City
(2004)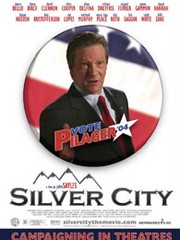 Silver City Trailers & Photos
Movie Info
Celebrated writer and director John Sayles turns his eye to politics in America in this drama. The son of respected Colorado politician Senator Jud Pilager (Michael Murphy), Dicky Pilager (Chris Cooper) is a charming but half-bright man with a bad habit of mangling the English language and a decided lack of political correctness. Dicky is also in the midst of a hard-fought campaign to become governor of Colorado. Dicky's campaign manager, Chuck Raven (Richard Dreyfuss), is a ruthless sort who will leave no stone unturned to see that his candidate wins, so when Dicky snags a dead body while fishing during the shooting of a campaign commercial, Raven is determined to find out if his man has been set up. Raven hires Danny O'Brien (Danny Huston), a former journalist turned private investigator, to find out who the dead man is and if he might be connected to Pilager's enemies. But the deeper O'Brien digs into the matter, the more he finds out about the candidate and his family -- and very little of it is flattering. John Sayles assembled a typically impressive cast for Silver City, with the supporting cast highlighted by Tim Roth, Kris Kristofferson, Maria Bello, Thora Birch, Daryl Hannah, Billy Zane, and Mary Kay Place.
more
Cast
News & Interviews for Silver City
Critic Reviews for Silver City
Audience Reviews for Silver City
½
Nice satire and goofy imitation of W moving up in politics.
½
"Silver City" starts out badly for Colorado gubernatorial candidate, Dicky Pilager(Chris Cooper) who is a son of a current U.S. Senator(Michael Murphy) and none too bright. While filming a campaign ad, supposedly showing off his fishing skills, Pilager reels in something quite unexpected - a dead body. His chief advisor, Chuck Raven(Richard Dreyfuss), works quickly at damage control and deftly employs an investigator, Danny O'Brien(Danny Huston), and gives him a list of three possible people who would most want to embarrass his candidate. O'Brien who is a disgraced former reporter goes beyond the call of duty by not only interviewing the listed people but also going deeper into the matter of the floating body.

One of the strengths of John Sayles' movies in the past is how they have been cast but "Silver City" is seriously lacking in this department. Dreyfus' belicosity(didn't he also do the right-wing thing in "The American President?") and Danny Huston who is not really fit to play the lead seriously hurt the movie. Cooper is wasted playing a one-dimensional character. Of the large cast, Maria Bello playing a reporter/ex of Obrien, James Gammon as a wily sheriff and Daryl Hannah as Pilager's sister come off best. And it's great seeing Tim Roth in anything...

"Silver City" is the first John Sayles movie I have been disappointed by.(The only one I have not seen is "Baby It's You.") It's quite similar to other multi-character socially relevant movies that Sayles has made like "Lone Star" and "City of Hope" but this time there is simply too much going on. It might have worked had the campaign been used only as window dressing but the caricatures of Bush and Rove(as personified by Pilager and Raven, respectively) serve as distractions from the main storyline. (Technically I agree with Sayles' politics but I think one has to go beyond simply criticizing the President and his lackey and make positive suggestions as to how the world should be run. Sayles to his credit does concern himself with the environment and how migrant workers are treated. He is also quite cynical of mainstream media and sees potential in how the World Wide Web is used in disseminating news.) Even worse, we never get to see any of the other candidates. Pilager is shown to be a right-wing demagogue but it is never explicitly stated that he is a Republican. Overall, Sayles sacrifices character and story to make a political point in "Silver City". It cannot compare with the infinitely better "Bob Roberts" as an examination of a right-wing political campaign.
Discussion Forum
Discuss Silver City on our Movie forum!
News & Features