Skidoo
(1968)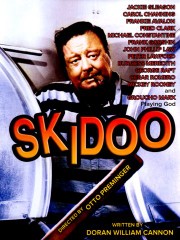 Tickets & Showtimes
Movie Info
Made on a lavish budget by Otto Preminger and featuring an all-star cast that includes Groucho Marx in his last screen appearance -- and a comic tale that blends gangster melodrama with the 1960s' psychedelia -- Skidoo had promise on paper, but ultimately proved itself a box-office bomb. Tony Banks is a reformed mob hit man who runs an honest car wash with his wife Flo. The first of their many troubles begins when their daughter gets involved with a hippie. Next, his ex-mob boss God calls up and says that he wants Tony to ice "Blue Chips" Packard before he testifies in court. The trouble is that Packard is in prison. At first Tony refuses, but when God orders Tony's best friend shot, he changes his mind and is sent to prison where he is to cozy up to Packard and kill him. But all bets are off after Tony accidentally ingests LSD and goes on a hallucinatory head trip that results in his decision not to kill Packard. Instead, he plans an elaborate escape that lands them into even bigger, more crazy trouble.
more
Cast
News & Interviews for Skidoo
Critic Reviews for Skidoo
Audience Reviews for Skidoo
Jackie Gleason plays a retired gangster sent to prison to assassinate a stool pigeon; gentle, freaky flower children help him get out of the mess he's gotten himself into in this notorious all-star train-wreck made by squares for the benefit of the counterculture. Watch it to see Carol Channing doing the frug in yellow pantyhose, Groucho Marx playing "God" and saying "groovy," and, best of all, Jackie Gleason freaking out on LSD. Not for the average moviegoer but if your looking for rare camp this is a gold mine.
½
In 1968 Otto Priminger decided to take acid and shoot a film, Skidoo is the result. Gleason's a hippie hating ex-mobster and his boss is a Kingpin called GOD played by Groucho Marx. The cast is amazing with music by Harry Nillson. The film is very strange and campy, it's not very good but worth a watch just to see Groucho smoke dope.
Discussion Forum
Discuss Skidoo on our Movie forum!
News & Features