Sleepwalking
(2008)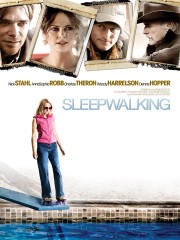 Tickets & Showtimes
Sleepwalking Trailers & Photos
Movie Info
Charlize Theron, Woody Harrelson, Dennis Hopper, Nick Stahl, AnnaSophia Robb, and Deborra-Lee Furness star in a family drama detailing the efforts made by an 12-year-old girl to come to terms with her mother's abandonment. Tara's (Robb) mother, Joleen (Theron), just can't seem to get her life together. Her boyfriend has recently been arrested for growing marijuana, and rather than attempting to create a stable living environment for her daughter, Joleen instead places Tara in foster care before vanishing without a trace. Joleen's brother, James (Stahl), isn't exactly the picture of equilibrium, yet he does feel sympathetic toward his niece and obligated to help her though such difficult times. After breaking Tara out of foster care, James and his newly freed niece set out on the open road together. Destination: nowhere. But every road has an end, and before long James and Tara find themselves at James and Joleen's father's farm. James has always avoided thinking about his violent childhood, though he realizes that in order to break the vicious cycle of dysfunction that the family has fallen into he must finally confront the demons of his past. Now, as Tara begins to understand why her missing mother has lived such a tumultuous life, James prepares for the confrontation that could bring his family closer together than ever before, if it doesn't destroy them first. William Maher, who served as visual effects supervisor for the 2005 Sundance film The Chumscrubber, makes his feature directorial debut with a film based on an original screenplay by that film's scribe, Zac Stanford. ~ Jason Buchanan, Rovi
more
Cast
News & Interviews for Sleepwalking
Critic Reviews for Sleepwalking
Audience Reviews for Sleepwalking
Dean McKenna
Super Reviewer
Cast: Nick Stahl, AnnaSophia Robb, Charlize Theron, Dennis Hopper, Woody Harrelson, Deborra-Lee Furness, Callum Keith Rennie, Amy Matysio, Shannon Jardine, Simon Chin, Ken Mitchell, Jean Freeman, Troy Skog, George Grassick, Mike Ennis, Alexandra Fox

Director: Bill Maher

Summary: When James's (Nick Stahl) sister, Joleen (Charlize Theron), shows up with her 11-year-old daughter, Tara (AnnaSophia Robb), he doesn't think twice about welcoming them into his home. But when Joleen skips town without her daughter, James is thrust into a role he's grossly unprepared for. At risk of losing Tara to foster care, James hits the road with his niece. Along the way, the pair develop a genuine bond and discover a true sense of family.

My Thoughts: "Although I liked the film, it had many potholes. It really didn't fill in some of the blanks for me. But for what it was, it still a good film. Nick Stahl and AnnaSophia were really good in this. Dennis Hopper, was good in this as well. His character is a controlling, hateful man. Its so easy to hate him in this film. As many probably have, or will say, this movie is quite depressing. It really never lightens up. It's a bit slow in some spots and could have ran a little shorter in time. But all in all a good enough flick with a sad and disturbing story."
♥˩ƳИИ ƜѲѲƉƧ♥
Super Reviewer
Tara's mother is trash, and when she's forced from her home, she bunks in with her younger brother, then deserts her brother (James) and daughter (Tara). James does his best trying to care for Tara, but it isn't easy - he lands up losing his job, and Tara is put into foster care. James and Tara land up at James' father's farm, which is where the movie becomes unrealistic.

All in all, it is worth watching the movie. Not cute, more scary actually.
Sleepwalking Quotes
Tara: [after she sees him staring at her] Uncle James, you're creeping me out.
Joleen: Hey, you be nice to Uncle James. James, where do you keep the hangers?
James: What?
Joleen: Hangers! God, this place is such a mess. I should have brought some of my own furniture.And we're going to need another pillow for Tara, by the way.
Tara: I'm not sleeping in the same bed as you, Mom!
Joleen: You know, you could really start unpacking your own shit instead of sitting there and pretending to do your homework.
Tara: I'm not pretending to do my homework, I'm pretending not to hate my life!
Joleen: Well, you're not doing a very good job of pretending!
Tara: Well, maybe I'm not applying myself!
Joleen: I don't need this kind of shit from you right now, Tara!
Tara: What kind of shit do you need from me right now, Mom?
Joleen: [kicking a chest of drawers] What do you want from me? God, Tara!
Discussion Forum
Discuss Sleepwalking on our Movie forum!
News & Features