Sleepy Hollow
(1999)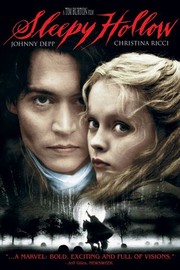 Sleepy Hollow Trailers & Photos
Movie Info
Washington Irving's tale of Ichabod Crane and the Headless Horseman gets a few new twists in a screen adaptation directed by Tim Burton. In this version, Ichabod (Johnny Depp) is a New York City detective whose unorthodox techniques and penchant for gadgets make him unpopular with is colleagues. He is sent to the remote town of Sleepy Hollow to investigate a series of bizarre murders, in which a number of people have been found dead in the woods, with their heads cut off. Local legend has it that a Hessian ghost rides through the woods on horseback, lopping off the heads of the unsuspecting and unbelieving. Ichabod refuses to believe in this legend, convinced that there must be a logical explanation for the murders. In time, Ichabod becomes smitten with a local lass, Katrina Van Tassel (Christina Ricci), who is the sweetheart of the burly Brom Bones (Casper Van Dien), and he becomes determined to capture the murderer to prove his bravery and win her heart. Christopher Walken, Jeffrey Jones, and Christopher Lee highlight the supporting cast; Lee's appearance is particularly apt, since Burton has cited the Hammer films of the 1960s as a major influence in making this film. Andrew Kevin Walker and Tom Stoppard contributed to the screenplay. ~ Mark Deming, Rovi
more
Cast
News & Interviews for Sleepy Hollow
Critic Reviews for Sleepy Hollow
Audience Reviews for Sleepy Hollow
Burton creates the best homage to the Universal monster films of the late 30's, early 40's that I've ever seen in this steroid-injected take on the old Washington Irving tale of a horse-riding phantom of doom. Not everything goes smoothly. Johnny Depp has to "do" scared wimpy guy a bit too much, making other actors have to react disgustedly too much as well. It gets old after the third or fourth time. Walken's ghost growls sometimes too long ("stop growling and do something, f'cryingoutloud!" I'd think). And Ricci ... was she only a stand-in for Winona Ryder? Whatever, despite these niggling concerns, the work succeeds in eliciting the romance those films of old simmered in, the mood and nuance. I loved it.
A handsomely shot and decorated film from the always gothic Tim Burton about the legend of Sleepy Hollow and the headless horseman (the terrifically casted Christopher Walken), and how Ichabod Crane (Johnny Depp) ventures to the mythical town of Sleepy Hollow to investigate some suspicious murders done by the villain. While the acting pretty much sucks, and Depp is still doing his "hands acting" thing way too much, the dark nature and atmosphere that permeates the film is unmistakable. Burton definitely has a feel for this story, as well as how to capture the look of it from a cinematography standpoint, it is just too bad the acting is so bad. Which more or less pushes this film into "campy" territory far too often. So, it's a toss-up. I really liked certain parts of it but then some aspects were so terrible you can not help but laugh. So, not the worst movie I have ever seen, but far from the best. Although I will admit I enjoyed it even when it gets utterly ridiculous.
Sleepy Hollow Quotes
Baltus Van Tassel: The horseman was a Hessian mercenary sent to the shores by German princes to keep Americans under the yoke of England. But unlike his compatriots, who came for money, the horseman came for love of carnage.
Ichabod Crane: The millennium is almost upon us. In a few months, we will be living in the nineteenth century. But our courts continue to rely on medieval devices of torture
High Constable: Stand down.
Ichabod Crane: I stand up for sense and justice.
Reverend Steenwyck: Their heads weren't found severed. Their heads were not found at all.
Ichabod Crane: The heads are... gone?
James Hardenbrook: Taken. Taken by the Headless Horseman. Taken back to hell.
Brom Van Brunt: We haven't heard your name yet, friend.
Ichabod Crane: I have not said it.
Discussion Forum
Discuss Sleepy Hollow on our Movie forum!
News & Features