Snake Eyes
(1998)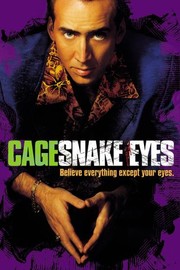 Snake Eyes Trailers & Photos
Movie Info
Brian DePalma directed this taut thriller, set in Atlantic City, where a corrupt cop investigates a political assassination. Outside an Atlantic City arena-hotel-casino, a TV news reporter stands in a pre-hurricane storm to report on the heavyweight boxing match about to begin inside. A transition to the stadium interior focuses on Atlantic City homicide Detective Rick Santoro (Nicolas Cage), a father with a wife and son, yet also a dishonest cop who maintains a mistress and cheerfully accepts bribes. DePalma's Steadicam follows Santoro on a fast-paced tour of the stadium as the laughing, yelling detective travels stairs and hallways, talks to a gal with a between-rounds placard, visits the dressing room of champ Lincoln Tyler (Stan Shaw), rides down an escalator to squeeze money from a small-time hood, enters the arena of 14,000 fight fans, talks on his phone with his girlfriend and wife, and sits ringside next to his lifelong buddy, Navy Cmdr. Kevin Dunne (Gary Sinise). Behind Dunne, the U.S. Secretary of Defense Charles Kirkland (Joel Fabiani) is seated alongside billionaire casino owner Gilbert Powell (John Heard). As the fight gets underway, Dunne abandons his position protecting the defense chief to pursue a suspicious redhead. From his ringside vantage point, Santoro has a close view of the champ, curiously conscious despite taking a kayo punch. At that moment, an assassin fires at Kirkland. Santoro immediately concocts a good cover story for his pal (to explain why Dunne left his post protecting Kirkland). Just after the shooting, Dunne kills a Palestinian extremist, the apparent killer, and Santoro orders the stadium doors locked, hoping he can locate other suspects among the fleeing crowd. One such is Julia Costello (Carla Gugino), an injured woman in a blond wig who spoke with Kirkland seconds before the gunfire. After a video replay reveals the champ took a fall, going down to the floor from a punch that never touched him, Santoro becomes more curious and suspicious, comparing witness accounts, and he attempts to locate Julia, convinced she's the key to truth behind the assassination. As it all comes to a head, Santoro peels through successive layers of corruption, ultimately confronting himself in a self-examination of his own values. Filmed at Montreal's old Forum. ~ Bhob Stewart, Rovi
more
Cast
News & Interviews for Snake Eyes
Critic Reviews for Snake Eyes
Audience Reviews for Snake Eyes
Melvin White
Super Reviewer
Brian DePalma's Snake Eyes is a pretty bad thriller. The concept of Snake Eyes was great, and I quite enjoyed the idea, however the execution of the plot isn't poor, and Brian DePalma, who usually directs good films, is pretty sloppy this time around. Snake Eyes could have been something great, but instead it's an awful film that simply doesn't cut it. I felt that the writing was sloppy and the film was one of those films that didn't know what to do with an elaborate concept. This is exactly the problem with Snake Eyes, the filmmakers don't know how to effectively develop the films plot to truly be something that will keep you on the edge of your seat. Snake Eyes conclusion leaves a lot to be desired and is frankly disappointing. The film could have been good, but it never delivers anything spectacular. Nicholas Cage overacts his part, and it becomes laughable. Snake Eyes may have had a good idea for its plot, but Brian DePalma and the cast really don't know how to make it work so that it is effectively entertaining for the viewer. After watching Snake Eyes, I was really thrilled overall, and was very disappointed. I've seen quite a few DePalma films, and he's a good director, but Snake Eyes is one of his worst films. DePalma does his best to try and conceive an effective thriller, unfortunately his efforts are wasted, and Snake Eyes ends up being a bad film that is quite frankly a waste of time. This film could have been much better, but instead it doesn't do anything to thrill the viewer. Usually a thriller sucks you in by the first frame, and leaves you hooked, Snake Eyes does the opposite, it sucks you in, but doesn't do anything great to capture your imagination, and thus it's quite a lame thriller.
½
When it comes to thrillers, Brian De Palma's name always comes to the top of my list as one of the living masters. In his polical conspiracy thriller Snake Eyes, we have an extremely effective film that is very much in the De Palma style with the long uncut sequences and split-screen scenes while also carrying what is perhaps Nicolas Cage's finest performance outside of Raising Arizona. Of course this sort of film gets made a lot and they all come a dime a dozen these days but with De Palma behind this one it all just fits perfectly and works. The only thing that bothers me is the pseudo-happy ending, which I won't spoil. I'm a huge fan of De Palma as he's one of my favorite directors and this film is just another in a long line of great pieces of cinema from the master. Riveting and entertaining with his style written all over it, you can't go wrong.
Tim Salmons
Super Reviewer
Snake Eyes Quotes
Discussion Forum
Discuss Snake Eyes on our Movie forum!
News & Features