Son of Saul
(2015)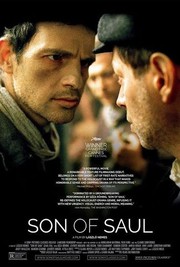 TOMATOMETER
AUDIENCE SCORE
Critic Consensus: Grimly intense yet thoroughly rewarding, Son of Saul offers an unforgettable viewing experience -- and establishes director László Nemes as a talent to watch.
Son of Saul Trailers & Photos
Movie Info
In this searing drama, a concentration camp inmate tasked with burning the dead discovers the body of his young son, and must choose between participating in the clandestine uprising being planned among the prisoners, or securing a proper Jewish burial for his child.
more
| | |
| --- | --- |
| Rating: | R (for disturbing violent content, and some graphic nudity) |
| Genre: | Drama |
| Directed By: | László Nemes |
| Written By: | László Nemes, Clara Royer |
| In Theaters: | Dec 18, 2015 Limited |
| On DVD: | Apr 26, 2016 |
| Box Office: | $1.8M |
| Runtime: | |
Cast
News & Interviews for Son of Saul
Critic Reviews for Son of Saul
Audience Reviews for Son of Saul
SCREAMS AND WHISPERS - My Review of SON OF SAUL (5 Stars)

Staggering and unforgettable, SON OF SAUL takes a subject many feel has been played out and sees it through the fresh eyes of a first-time filmmaker with a burning passion to tell a story. What director László Nemes, his co-writer, Clara Royer, cinematographer Mátyás Erdély, and their star, Géza Röhrig, have done is provide an entirely visceral, emotionally credible experience devoid of maudlin speechifying and shameless pandering. Premiering in competition (unheard of for a first-time director) at the 2015 Cannes Film Festival and winning 4 awards, SON OF SAUL marks the arrival of a stunning new voice in cinema.

Röhrig, as Saul, is the epitome of the Walking Dead. A Hungarian Jew working the death factories at Aushwitz, Saul, like so many of the Sonderkommando, is forced to bring his fellow prisoners into the gas chambers, steal their valuables for his captors, and dispose of the dead's ashes or bodies. In a lesser film, Saul would have corny moments where he would talk about the injustice of it all. Here, in the hands of a clear master, Saul hardly ever speaks. He just does...relentlessly. His soul, what's left of it, shines through in Röhrig's eyes. While on detail, he notices a dead young boy and claims it is his own. This may or may not be true, but in this hellscape, Saul makes it his mission to give this boy a proper burial. He finds a purpose in a world seemingly without it. In doing so, Saul comes alive.

It's a deceptively simple story, but what makes SON OF SAUL unique is how it's presented. The camera stays tight on Saul for most of the film. While either in front of or behind our main character, everything else appears in shallow focus. The horrors of the camp happen just offscreen or we're given quick glimpses. There are times where you have to work a little to figure out what's happening. It's completely intentional, since Saul doesn't seem to understand it all either. With very little dialogue, he bounces from task to task, narrowly surviving some close calls. Prisoners and guards alike speak to each other with a dehumanizing intensity. Corpses are referred to as pieces, and clearly as a survival tactic, Jews speak to each other with a complete lack of empathy. It's survival of the fittest, and anyone else is dead weight.

One critic has referred to this film as HOLOCAUST: THE VIDEO GAME, an insulting comparison I'll agree with only in the sense that SON OF SAUL has impact, intensity, and profound forward motion. Additionally, the sound design, credited to Tamás Zányi , with sound editing by Tamás Székely, puts most blockbusters to shame. This is an intuitive, frightening, credible use of sound to truly put the viewer in this situation. Without a score, we hear different languages, screams, whispers, factory noises, and sometimes a hideous silence, all of which add up to a complete world. We may never know what it was actually like for those who suffered at the hands of the Nazis, but SON OF SAUL rings the truest for me. This is a prime example of the symbiotic relationship between a director, cinematographer and star, all of whom seem to be in perfect sync with each other. It's claustrophobic and numbing, and why shouldn't it be?

While Saul traverses the camp looking for a Rabbi and tools to complete his mission, an uprising plot springs forth from Saul's fellow prisoners. Many may find this element of the film to be underwritten and tough to decipher. I'm among them, especially during a visit to a women's unit. The filmmakers definitely don't like to spoon-feed their audience. Ultimately, it doesn't matter. What occurs becomes pretty clear by the end, and you're left with a stunning final act which blends sentimentality with its polar opposite in an almost wordless, heartbreaking yet life-affirming fashion. Nemes could have so easily given us the Tom Joad, "I'll Be There" speech, but instead he allows so much to be said with this convergence of violence, hopelessness, and one of the wryest smiles in cinema history. You won't soon forget SON OF SAUL, nor should you.
½
An excellent foreign film. The film is a journey into one of humanity's darkest hours. Many excellent films have dealt with the heavy subject matter of Son of Saul, but this film delivers a memorable and engrossing experience.

The film is oddly not really about the characters, despite the intense usage of POV or over shoulder camera work. You barely remember the faces of the individuals int he movie, but cannot shake the visceral and personal experience of the film. This is likely by design to capture the devastating de-humanization of life in a concentration camp. The most gut wrenching of moments are never fully and focus and always just off to the side or edge of the viewers field of vision.

I had the good fortune of viewing this film at a festival with a number of other people. When you leave the film you can say little upon immediate reflection, but everyone clearly felt a sense of awe (albeit mired in uneasiness) and silent contemplation at what they experienced. A worthy film that truly does justice to the experience of true horror, never fully seen or explained butt deeply felt.
Son of Saul Quotes
Discussion Forum
Discuss Son of Saul on our Movie forum!
News & Features