Sparkle
(2012)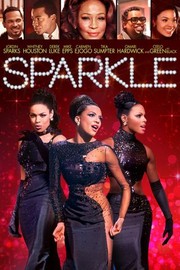 TOMATOMETER
AUDIENCE SCORE
Critic Consensus: While undeniably melodramatic and old-fashioned, Sparkle transcends its formulaic trappings thanks to Salim Akil's empathetic direction and strong performances from a committed cast.
Sparkle Trailers & Photos
Movie Info
Musical prodigy, Sparkle (Jordin Sparks) struggles to become a star while overcoming issues that are tearing her family apart. From an affluent Detroit area and daughter to a single mother (Whitney Houston), she tries to balance a new romance with music manager, Stix (Derek Luke) while dealing with the unexpected challenges her new life will bring as she and her two sisters (Carmen Ejogo and Tika Sumpter) strive to become a dynamic singing group during the Motown-era. -- (C) Sony
more
Cast
News & Interviews for Sparkle
Critic Reviews for Sparkle
Audience Reviews for Sparkle
½
"Sparkle" is a good musical melodrama but not much more than that. It stars Jordin Sparks, in her acting debut. Ms. Sparks is certainly competent, but I don't expect her to have a huge screen career.

The stand-out is Whitney Houston, in her last screen performance. She's not the greatest actress you've ever seen, but she's very good playing a middle-aged woman crushed under the burden of a lifetime of heartbreaks. Where she really comes alive is when she sings. She only has one song in the film, a slow Gospel hymn, and she brings down the house.

Ms. Houston clearly could have had a second career as a torch-song singer. Even though she lost her remarkable range in her 40s, she still could sing the pants off a song, as long as it was in the alto range. She sings this hymn with such profound soul that my entire audience burst into spontaneous applause when she finished. I've almost never heard anything like that in a movie theater.

I'm paying $200 a seat to see Barbra Streisand this fall (who's 70!). I would easily have paid $200 to watch Ms. Houston sing alto songs in 2012 had I been given the opportunity. Her ridiculously early death is a great loss for the world.

The greatest value "Sparkle" has is that it captures this spectacular artist in the last phase of her life. The movie is worth seeing anyway. But with the added value of Houston, it's a must-see for anyone who cares about great musical art.
William Dunmyer
Super Reviewer
The original SPARKLE was set in 1950s Harlem, and this remake moves things to 1960s Detroit, perhaps to better link things to the Motown era and distance itself from DREAMGIRLS. Regardless, my experience with both films was rather similar. Not great by any means, but filled with wonderful moments and performances, some catchy (although a little too mid-tempo) songs, the newer version is worth seeing alone for Whitney Houston's last screen performance. Fully committed here, she vividly brings to life a controlling and churchgoing mother to three daughters who want to break out as a musical trio, ala THE SUPREMES. Remember, this story came first years before DREAMGIRLS, and it's all the more endearing as a result.

Let's start with the positives. In addition to Houston, who really does a blazingly good job here (just narrowly skirting campy DYNASTY territory here), we have Carmen Ejogo as Sister, the group's lead singer and lightning rod for T-R-O-U-B-L-E. Every second she's on screen, your eye immediately goes to her. She shows a LOT of range here, very similar to Diana Ross in LADY SINGS THE BLUES, and I felt for her every step of the way. Here's a future star worth watching. Cee Lo Green is natural and dynamic as a Club singer, and the numbers, the signature, "SOMETHING HE CAN FEEL", and Ejogo's first solo number, "YES I DO" are true standouts.

I hate to throw negatives at a film with such a good heart, but here goes. At times the film felt over-directed. One sequence in particular, limning Ejogo's downfall with an abusive husband felt slowed down to better emulate, what? The sword-and-sandals epic, 300? Most of the time, director Salim Akil keeps things wonderfully natural, so I won't harp on him experimenting stylistically every now and then. Jordin Sparks is definitely a better singer than actress (she Alicia Keyes the hell out of her big final numbers), and her performance is all kinds of bland. Sweet, endearing, but more Disney Princess than gritty urban dweller. Her chemistry with Derek Luke is so chaste that I wasn't convinced they ever even met each other, let along occupied the same scenes together. There are also times when the screenplay lurches around in such odd ways.

Then there's the elephant in the room. This film brings the church front and center, and go to great lengths to never disparage it, despite the Iron Lady actions of Houston's character. I appreciated very much that it wasn't a simple cut-and-dried attack, and that the daughters always seems to treat their disapproving mother with such respect. Personally, I would have preferred a little more grit in the debate, as it could have heightened the drama there a tad...but small complaints for a film with so much to offer. In VARIETY terms, I'd say" SPARKLE SPUTTERS BUT DOESN'T FLAME OUT". Tacky, but apropos.
Sparkle Quotes
Sister: Sister can't fly with only one wing!
Sparkle: All I think about is music.
Stix: Don't fall short because you can't admit that you want it.
Emma: Keep dancing like that you will bring home some kid you can't feed.
Discussion Forum
Discuss Sparkle on our Movie forum!
News & Features