The Librarian: The Curse of the Judas Chalice
(2008)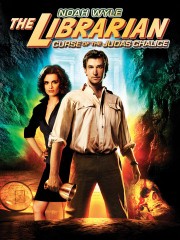 AUDIENCE SCORE
Critic Consensus: No consensus yet.
The Librarian: The Curse of the Judas Chalice Trailers & Photos
Movie Info
The fearless bookworm who searched for King Solomon's Mines and sought out some of the world's most priceless relics returns to investigate a mystery that could reveal the truth about one of history's most feared villains in this made for television adventure directed by Jonathan Frakes (Star Trek: The Next Generation, and starring Noah Wylie, Bob Newhart, and Jane Curtain. Flynn Carson (Wylie) is on a mission to recover the historic Judas Chalice when French beauty Simone rescues him from certain death. Despite her radiant gorgeousness, however, Simone possesses a dark secret. That doesn't stop Flynn from falling madly in love with Simone, though when he's betrayed by a respected professor (Bruce Davidson) and attacked by a relentless street gang, her secret finally comes out. Realizing his true mission, Flynn ventures into a decrepit New Orleans crypt rumored to house the remains of none other than Prince Vlad Dracul, the 15th Century Romanian prince whose notorious cruelty still holds the power to frighten over 500 years after his demise in 1476.
more
Sony Pictures Home Entertainment
News & Interviews for The Librarian: The Curse of the Judas Chalice
Critic Reviews for The Librarian: The Curse of the Judas Chalice
All Critics (1) | Fresh (1) | Rotten (0) | DVD (2)
As soon as the opening credits begin, spurred on by Joseph LoDuca's 'adventure' score, we know we're in Indiana Jones territory %u2013 but Indy has left the building and the filmmakers have their tongues firmly in their cheeks

Audience Reviews for The Librarian: The Curse of the Judas Chalice
This second one directed by Jonathan Frakes, third one of the entire series of movies, was far better than the others. I liked that there weren't a whole lot of special effects, that some of the corny humor was dropped, and that there was more chemistry between Noah Wyle's Flynn and Stana Katic's Simone. Emily is gone now too and Flynn is dating another girl who is realizing she can't handle his exciting globetrotting career as a librarian. Rim shot! Anyways, Flynn returns to the library again and has a spastic breakdown, demanding a vacation. When he finally decides to actually take a vacation out of his apartment, he goes to New Orleans. Meanwhile a group of Russians want to restore their nation to its former glory by finding the Judas Chalice and bringing Dracula back to life to lead an army of the undead. They kidnap a professor of Romanian history (Davison) to help them do this. Yes, during these last couple month of 2008 when there are two other well known movies in theaters about vampires, that is what this librarian adventure is about. The legend of the Judas Chalice, as explained in the movie, connects the voodoo mythology (dealing with the undead) of New Orleans, with the vampire mythology of Russia and Europe. But there is still biblical mythology mixed in because the pieces of silver Judas received for betraying Jesus were formed into this Chalice, Judas tried to hang himself from an ash tree, but was cursed to walk the earth forever, therefore Judas was the first vampire. Drinking blood from the Judas Chalice restores life to vampires, but silver bullets, a stake made of ash tree wood through the heart, holy water, the cross, sunlight, or having their head chopped off are all things that kill a vampire. Simone, Flynn's new romantic interest in New Orleans is a jazz club singer and vampire who doesn't want to see an army of the undead wipe out humanity. Flynn has to play MacGyver at one point to make an escape, but most of the special effects are focused on the vampires turning to dust or fighting and therefore better. And I thought the filmmakers were at least trying to be less predictable with this story. Also a little more mystery about Bob Newhart's character Judson is revealed and may likely lead to more Librarian movies.
STANA KATIC!!!
Now that we have that cleared...
This was much better than I expected, but I was sold the moment I saw Stana Katic. I missed badass vampires so much these days so thanks Stana, thanks Bruce.
STANA KATIC!!!
Andreia Cordeiro
Super Reviewer
The Librarian: The Curse of the Judas Chalice Quotes
Discussion Forum
Discuss The Librarian: The Curse of the Judas Chalice on our Movie forum!
News & Features