The Bachelor Weekend (The Stag)
(2014)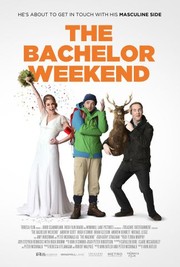 AUDIENCE SCORE
Critic Consensus: The Bachelor Weekend offers nothing new on the narrative front, but its strong ensemble cast and well-written gags more than compensate for any lack of originality.
The Bachelor Weekend (The Stag) Trailers & Photos
Movie Info
This is a laugh-out-loud comedy that's also big on heart - a hilarious take on modern male friendship, bonding and brotherhood, set in rural Irelandbachelor party weekend takes some unexpected detours in this hilarious and heartfelt Irish comedy, about a foppish groom-to-be (Hugh O'Conor) who reluctantly agrees to go on a camping trip before his nuptials. But when his fiancee's alpha-male brother, nicknamed "The Machine," unexpectedly turns up, all concepts of masculinity are challenged - and a leisurely weekend in the great outdoors takes a turn for the worse.(c) Tribeca
more
Cast
News & Interviews for The Bachelor Weekend (The Stag)
Critic Reviews for The Bachelor Weekend (The Stag)
Audience Reviews for The Bachelor Weekend (The Stag)
Though formulaic and cartoonish, this feel-good comedy... is the sort of harmless entertainment that fuels inactive evenings in front of the tube and helps pass the time on long flights.
This film was even better than I expected...I had expected it to be a sort of "journey comedy" story, mostly focusing on the difficulty of having the Bride's brother "The Machine" at The Stag party. (Why they felt they had to rename this for the US market is beyond me. They do call them Stags here, too...)

Well, it's much more than just a comedy, it's ... sort of like a Hollywood buddy comedy --the type where things keep going wrong and the fun is seeing our heros react to them--got crossed with an Independent film about a group of men who get together on a weekend and, through adversity and unexpected honesty, they all become much closer--and somehow it mixes these two 'genres' together very lightly so you have a very funny, but also very touching film that, due to the addition of more serious material becomes much more memorable and special. Andrew Scott easily carries out his leading man duties, and there are a few scenes --one in particular where he sings by the fire, and the song is essentially an exposition of his character's history and secret... the amount of emotion and 'story' told simply by his body language and expressions during that song was incredible. Really recommend this one, it was fun. I'll be buying it on DVD (and if they don't release it on DVD in the US, I'll just buy the UK version.)
Discussion Forum
Discuss The Bachelor Weekend (The Stag) on our Movie forum!
News & Features