The Devil Inside
(2012)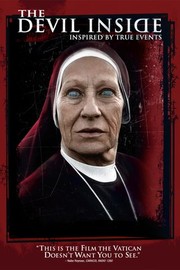 Tickets & Showtimes
The Devil Inside Trailers & Photos
Movie Info
In 1989, emergency responders received a 9-1-1 call from Maria Rossi (Suzan Crowley) confessing that she had brutally killed three people. 20 years later, her daughter Isabella (Fernanda Andrade) seeks to understand the truth about what happened that night. She travels to the Centrino Hospital for the Criminally Insane in Italy where her mother has been locked away to determine if her mother is mentally ill or demonically possessed. When she recruits two young exorcists (Simon Quarterman and Evan Helmuth) to cure her mom using unconventional methods combining both science and religion, they come face-to-face with pure evil in the form of four powerful demons possessing Maria. Many have been possessed by one; only one has been possessed by many. -- (C) Paramount Insurge
more
Cast
News & Interviews for The Devil Inside
Critic Reviews for The Devil Inside
Audience Reviews for The Devil Inside
½
I heard all about The Devil Inside earlier this year, when supposedly midnight screening audiences were so incensed that they practically became a riotous mob, throwing items at the screen, loudly booing, some even destroying theater equipment. If that doesn?t sell this movie, then I don?t know what will. I wasn?t expecting much from this faux documentary about one pretty girl?s (Fernanda Andrade) search for her crazy mom who may or may not be possessed by demons. She enlists the help of two exorcists and a camera crew and goes searching for answers. Never mind that the movie is absent any scares outside the sudden jump variety, ignore the empty characters and nonsensical plotting and poor pacing and choppy editing, as well as some bad Italian accents, and let?s get down to what makes this movie so notorious ? the ending. Just when it appears that The Devil Inside is gearing up for a climactic showdown between good and evil, just when it seems like the movie is finally getting somewhere, it ends in the most abrupt, ludicrous fashion (note to self: when transporting possessed people, stow them away in the trunk). You?re left dumbstruck, shocked that the filmmakers cheated you out of an ending. It?s a nonsensical and cheap thing to do, and I can understand why it inflamed audiences (it still made over $50 million, so I think the filmmakers are feeling fine). Only those easily spooked by demonic possession would find this movie scary. Everyone else will just find it upsetting, not because of its content, but because of its lack of a workable conclusion.

Nate's Grade: D+
Nate Zoebl
Super Reviewer
The Devil Inside is that film that has the misfortune in being released in the period where Found Footage films are becoming tiresome, uninspired and a waste of time. This isn't the first Found Footage flick to deal with Exorcisms since 2010's The Last Exorcism. This film is one of the worst horror films in recent memory. What it lacks the most is substance. This film had so much potential in being an effective horror film. Unfortunately, it ends up being one of the worst. The film misfires and instead of delivering great chills (except for an exorcism halfway through the film), this film fails. The Devil Inside relies on the usual clichés, and doesn't try anything new, bold or exciting to thrill the viewer. What's really a shame here is that the two actors playing the priests are very good in their roles, unfortunately the film doesn't work. The script is poorly written, and the material is taken from other genre films. This is one of those films that is predictable and really isn't worth your time. I personally feel that Found Footage films are a thing of the past, and aren't great. Apollo 18 was a decent flick, but it should have ended with that one. Guess they're going to keep on making these types of films just for the sake of cashing in on it. As far as I'm concerned, they all follow the same formula, and really don't offer anything new. The Devil Inside might have been a good effort if the script would have been reworked, but it becomes one of the worst horror flocks in recent memory and the ending will surely disappoint.
The Devil Inside Quotes
Maria Rossi: Your God wants what it cannot have.
Ben: Who are you? [scared]
Isabella Rossi: You know me... everyone knows me. [possessed voice]
Maria Rossi: Three people.
Maria Rossi: Three people are dead.
Maria Rossi: I... I killed them.
Maria Rossi: Connect the Cuts.
Discussion Forum
Discuss The Devil Inside on our Movie forum!
News & Features