The Hornet's Nest
(2014)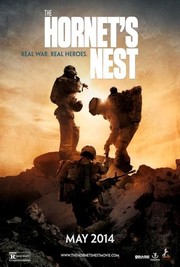 The Hornet's Nest Trailers & Photos
Movie Info
The Hornet's Nest is a groundbreaking and immersive feature film, using unprecedented real footage to tell the story of an elite group of U.S. troops sent on a dangerous mission deep inside one of Afghanistan's most hostile valleys. The film culminates with what was planned as a single day strike turning into nine intense days of harrowing combat against an invisible, hostile enemy in the country's complex terrain where no foreign troops have ever dared to go before. Two embedded journalists, a father and son, bravely followed the troops through the fiercest and most blood-soaked battlegrounds of the conflict. What resulted is an intensely raw feature film experience that will give audiences a deeply emotional and authentic view of the heroism at the center of this gripping story. (c) Freestyle
more
Watch it now
News & Interviews for The Hornet's Nest
Critic Reviews for The Hornet's Nest
Audience Reviews for The Hornet's Nest
You want a true, real look at war? This is not an easy film to watch, and very emotional at the end, but do yourself a favor and watch it. Then maybe you can have some sort of inclination of what our soldiers do for us.
This documentary drops the audience into the heart of battle in Afghanistan. It does a superb job of illustrating the unconditional camaraderie the men and women of the military have for each other. They are committed to each other and to their mission. Their level of dedication is unmatched. They are heroes.

No questions are raised about the necessity or rational for this war. It is not about why we are there, what we are trying to achieve there or whether we should be there. These are questions for our leaders and are intentionally omitted.

This is a documentary about the sacrifice so few dare to give for this country. It is a mere glimpse of the tie that binds these heroes. It makes you question whether you could have this level of allegiance to your country. It should make you grateful for the freedoms you have every day. And, it should make you reflect on whether you could be doing more to uphold them, appreciate them and/or protect them.
Craig Henson
Discussion Forum
Discuss The Hornet's Nest on our Movie forum!
News & Features