There's Something About Mary
(1998)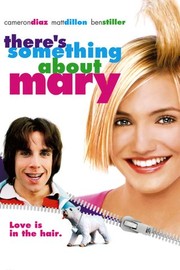 TOMATOMETER
AUDIENCE SCORE
Critic Consensus: There's Something About Mary proves that unrelentingly, unabashedly peurile humor doesn't necessarily come at the expense of a film's heart.
Tickets & Showtimes
There's Something About Mary Trailers & Photos
Movie Info
The Farrelly Brothers set this romantic comedy in their home state of Rhode Island. In 1985, when teen-nerd Ted Stroehmann (Ben Stiller) challenges a high-schooler who's bullying retarded Warren Jenson (W. Earl Brown), his concern prompts Warren's sister, the dazzling and desirable Mary Jenson (Cameron Diaz) to choose Ted as her senior prom date, a fact Ted's pals find hard to believe. However, on prom night, Ted gets his penis caught in his zipper, so the much-desired date never happens. Living in Providence and waxing nostalgic 13 years later, Ted hires Pat Healy (Matt Dillon) to locate Mary, and the creepy private investigator finds her in Miami, where she lives with her tan-shriveled roommate Magda (Lin Shaye). After Pat develops a stalker-style fixation on the lovely, unattached Mary, he lies to Ted, telling him that she's now an overweight mother confined to a wheelchair. Employing professional eavesdropping equipment, Pat gathers a dossier on Mary's life and future plans, information that forms the basis for more lies when Pat begins dating her. Sure enough, Mary falls for Pat, although her friend Tucker (Lee Evans) is very suspicious of Pat's claim to be a Harvard-educated architect. Meanwhile, Ted learns the truth but continues to encounter offbeat obstacles as he accelerates to Miami in hopes of finding happiness with his true love. Former Modern Lovers singer Jonathan Richman vocalizes a narrative ballad of onscreen commentary in the Cat Ballou (1965) tradition. Most of the cast sings and frolics to Build Me Up, Buttercup by The Foundations during the closing credits. ~ Bhob Stewart, Rovi
more
Cast
News & Interviews for There's Something About Mary
Critic Reviews for There's Something About Mary
Audience Reviews for There's Something About Mary
Directors Cat
Super Reviewer
The best movie by the Farrelly Brothers.
The Farrelly Bros. make a fun comedy-filled flick that presents the best in both Ben Stiller and Cameron Diaz. Though it suffers minor bumps it is still filled with laughter and jokes. 4/5
There's Something About Mary Quotes
Pat Healy: First chink in the armor, Ted.
Pat Healy: [to Tucker] We agreed I wouldn't fuck you, and you wouldn't fuck me until we got this fuck. [Ted]
Pat Healy: We got this one kid, Mongo... He's got a forehead like a drive-in movie theatre, but he's a good ship. So we don't bust his chops too much.
Pat Healy: My real passion is my hobby.
Mary Jenson: Really what's that?
Pat Healy: I work with retards.
Mary Jenson: Isn't that a little uhm, politically incorrect?
Pat Healy: Well to hell with that, no one's gonna tell me who I can and cant work with right?
Discussion Forum
Discuss There's Something About Mary on our Movie forum!
News & Features