Trancers
(1985)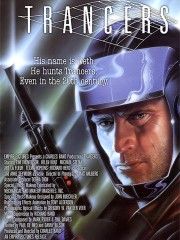 Tickets & Showtimes
Movie Info
With the whimsical tagline "Jack Deth is back and he's never been here before," director Charles Band melds Blade Runner, The Terminator, and Jingle All the Way for this low-budget science fiction adventure. The story takes place in Angel City in the year 2247, when enforcer Jack Deth (Tim Thomerson) has just retired from the weekly grind after vanquishing villain Martin Whistler (Michael Stefani) and his roving cohorts, called "trancers." But Whistler and his trancers have gone back to Christmas 1985, with the insidious plan of exterminating the ruling council by killing off all the council members' ancestors. So Deth agrees to go back in time to get Whistler and the trancers all over again. To do so, he must transfer his memory into the body of one of his ancestors, who in this case has just had an erotic interlude with the perky and attractive Leena (Helen Hunt), who works as a Santa's elf at a shopping mall and gets to wear a skimpy, tight-fitting elf suit. Deth discovers that Whistler has taken over the body of the police inspector and has started transforming the Los Angeles population into trancers --including Santa Claus. With Leena's help, Deth sets out to even the score.
more
Watch it now
Cast
News & Interviews for Trancers
Critic Reviews for Trancers
Audience Reviews for Trancers
An okay sci-fi action thriller, with an average cast, and a predictable ending. It has some good scenes, but it could have been a lot better.
I don't know: It's a weird Blade Runner/time-travel thing that's all rather silly, but it's so much fun. And Tim Thomerson is my personal hero.
Trancers Quotes
Discussion Forum
Discuss Trancers on our Movie forum!
News & Features