Transformers: Revenge of the Fallen
(2009)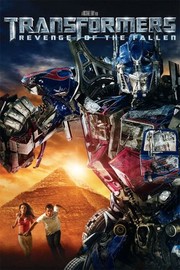 TOMATOMETER
AUDIENCE SCORE
Critic Consensus: Transformers: Revenge of the Fallen is a noisy, underplotted, and overlong special effects extravaganza that lacks a human touch.
Transformers: Revenge of the Fallen Trailers & Photos
Movie Info
Two years after saving the world with the Autobots, Sam Witwicky (Shia LaBeouf) is away at college when an ancient Decepticon named "The Fallen" returns to Earth on a mission of vengeance. With the Allspark destroyed, the Autobots lose all hope of returning to their home planet of Cybertron, and begin working with an elite military known as NEST to hunt down any remaining Decepticons. But even as they fight for humanity alongside Major Lennox (Josh Duhamel) and USAF Master Sergeant Epps (Tyrese Gibson), the Autobots are acutely aware that not all humans are thrilled by their presence on planet Earth. When National Security Advisor Theodore Galloway (John Benjamin Hickey) wages a heated campaign aimed at exiling the giant robots back into space, head Autobot Optimus Prime agrees to comply with the voice of the people, while warning them of the potential consequences of leaving the planet unprotected. Meanwhile, Sam contends with an overly cocky college roommate, and attempts to remain faithful to Mikaela (Megan Fox) by fending off advances from pretty -- and persistent -- coed Alice (Isabel Lucas). Just as Sam begins adjusting to the quirks of campus life, a series of inexplicable visions leaves him convinced that the struggle between good and evil is far from over. And he's correct, too, because the Decepticons have just discovered that Sam is the one human who possesses the ability to tip the balance of power to the Autobots' advantage, and they're determined to gain the upper hand by dispensing with him once and for all. Now, as Sam and Mikaela unearth a secret about the Transformers that alters the entire course of human history, the Decepticon known as The Fallen prepares to return -- and reclaim the plant once and for all. ~ Jason Buchanan, Rovi
more
Cast
News & Interviews for Transformers: Revenge of the Fallen
Critic Reviews for Transformers: Revenge of the Fallen
Audience Reviews for Transformers: Revenge of the Fallen
Whilst I enjoyed the first 'Transformers' this is cinematic torture. It is utter, utter rubbish. I cannot clearly express in words my utter hatred for this film. I despise everything about it from the racist robots to the exploitative special effects. I know Michael Bay makes 'films for teenage boys' but as a filmmaker he has a moral duty to create a plot. Yet again he has failed abysmally. Spare yourself from this.
Okay, if you are one of those people who goes to the movies and expects to see a great story, then this could possibly be the worst movie you have ever seen, but you have to look beyond the story and have some fun with it! This movie is amazing fun at times, but there is just so much bad surrounding it. There is too much action, that you will find yourself lost in the entertainment, which is fun for a while, but ultimately becomes tiresome. Yes, it goes overboard, and yes it's a new low for even director Michael Bay, but I love watching it for some reason. This is a very bad film with addicting action that you just cannot ignore. The only things thing film has going for it is the effects, which actually work against the story sometimes. This had potential to be a great popcorn flick, but it's just overlong and dumb.
Transformers: Revenge of the Fallen Quotes
Starscream: Come here, boy.
Starscream: Master, sorry to be the bearer of bad news, but the soldiers brought the body of Prime!
Megatron: The boy must have the Matrix. He can not let him reach Optimus! Decepticons, begin our assault!
Leo: Wait, wait, wait, can I sit and watch?
Leo: I think he died, but lets go and check.
Discussion Forum
Discuss Transformers: Revenge of the Fallen on our Movie forum!
News & Features