Undisputed III: Redemption
(2010)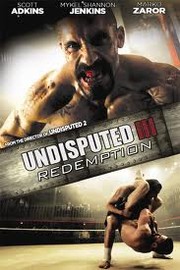 AUDIENCE SCORE
Critic Consensus: No consensus yet.
Undisputed III: Redemption Trailers & Photos
Movie Info
Eight incarcerated brawlers compete for their freedom in an underground fight to the death funded by a powerful underground gambling ring. The further Boyka (Scott Adkins) works his way up through the ranks, the more powerful his opponents become. Upon realizing that his mysterious benefactors have no intentions of letting the winner reap their reward, Boyka launches into a fierce battle to bring the crooked syndicate crumbling to the ground, and expose their inhumanity in the process. ~ Jason Buchanan, Rovi
more
Cast
News & Interviews for Undisputed III: Redemption
Critic Reviews for Undisputed III: Redemption
All Critics (3) | Fresh (1) | Rotten (2) | DVD (3)
Undisputed III: Redemption is a pleasant surprise that delivers exactly what you'd want - kick-ass fighting and a lot of action.
As dull as the story may be, the fighting scenes are admittedly impressive.
For what it is, a low-budget, direct-to-video action flick, Undisputed III works well enough.
Audience Reviews for Undisputed III: Redemption
½
Third and final outing? again we are back to see Boyka this time rise from the ashes and become a world class fighter again as he turns from being the baddie fighter in the second film to the hero in this third. The story follows on from the second with Boyka having a badly damaged leg after losing his fight to Chambers, from there on we get another well run plot of over coming an injury to join in a tournament against other world fighters to get freedom, think 'Bloodsport' or 'Street Fighter' or any other fighting tournament flick, they're all the same really.

Again I was surprised with this film as I expected a real waste of film but again this is actually a pretty decent fight flick with again some fantastic fight sequences. Yes all the other fighters are your typical cliched types from various countries, one fighter from Brazil being a complete copy of 'Eddie Gordo' from 'Tekken' right down to the outfit, the only difference with this film is all the fighters can actually do the kind of super moves you see in 'Tekken'. Some of the moves and gymnastic abilities on show are amazing and the best I've seen in a film, yes the acting is so so and the plot is predictable but a real effort has been made with these two sequels to make the fights look bloody good and that they do.
All the cast is persent from the second film so continuity is spot on which is really nice, same with location too and all the fighters look the part and as said move damn well, if you like 'beat em up' films that hark back to the days of JCVD then you really can't go wrong here, this film series is a well made little franchise and a fourth film would actually be pretty cool.
½
Most direct-to-DVD films are cash-ins on popular franchises. Undisputed wasn't a very popular or, for that matter, a very exciting movie. However, cinematic miracles can occur and this third installment is a major improvement and a satisfyingly fierce testosterone cocktail. Adkins is a perfectly stoic combatant and the mixed martial arts scenes are brutally pulse-pounding. The friendship between Russian Adkins and the loquacious American Mykel Shannon Jenkins is a great culture-clash subplot. No jittery camera, no close-up angles, no professional stuntmen, the kinetic action is shot in panoramic wide lens with stupendous choreography and we can ascertain precisely we is winning and how.
Undisputed III: Redemption Quotes
Boyka: If I'm champion of the toilets..
Boyka: What does it make you, when I kick the f*cking sh*t out of you?
Boyka: God has give it to me one gift, only one: I am the most complete fighter in the world.
Boyka: I am the most complete fighter in the world.
Discussion Forum
Discuss Undisputed III: Redemption on our Movie forum!
News & Features