The X-Files - Fight the Future
(1998)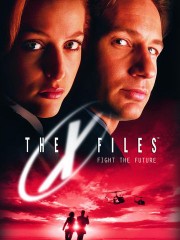 Tickets & Showtimes
The X-Files - Fight the Future Trailers & Photos
Movie Info
This 60-million-dollar science fiction suspense drama (marketed with an additional 25 million dollars), was adapted from the popular TV series The X-Files -- arriving in theaters while the Emmy-winning series was still being aired, continuing plot threads familiar to many of the series' 25 million viewers, and featuring several familiar recurring characters introduced during the previous five TV seasons. In 15,000 B.C., a strange creature attacks a caveman. Cut to present day, when a boy at the same North Texas spot falls into a pit and is contaminated by a black substance. When a bomb threatens the Dallas Federal Building, special FBI agents Fox Mulder (David Duchovny) and Dana Scully (Gillian Anderson) locate the device but are unable to prevent the explosion. The agency blames Mulder and Scully for the disaster, subjecting them to lengthy interrogations while trying to sever their partnership. In a bar, conspiracy theorist Kurtzweil (Martin Landau), a friend of Mulder's father, tells Mulder about the group behind the explosion, the cover-up of the boy's death, the bodies of four infected rescue workers removed from the Federal Building, the secret government, and the forthcoming plague. Mulder and Scully set out to find answers, and their investigation becomes a foray into the fantastic. ~ Bhob Stewart, Rovi
more
Twentieth Century Fox Home Entertainment
Cast
News & Interviews for The X-Files - Fight the Future
Critic Reviews for The X-Files - Fight the Future
Audience Reviews for The X-Files - Fight the Future
½
After The success of the show, it was obvious that a film would conclude it's terrific run. X Files: Fight The Future is a terrific Sci Fi Horror film with a fairly good story and decent enough acting to keep one entertained. Moulder and Scully are back one the trail of the paranormal, and this film succeeds in providing the viewer with head scratching questions. This is an enjoyable film that will appeal to Sci Fi fans as well as Horror fans. The story steadily builds up to a tense climax and pays off, and this film ends on a high note.
The film will appeal to diehard fans of the series. The film has a terrific atmosphere of mystery and doubt. All the elements that made the TV show great are here and the finished product is very well done. The reason the film works so well is that they were able to keep all the key elements that made the show entertaining and great while expanding the plot to be more complex, intriguing, mysterious and horrifying. This film is a fairly good attempt for the show to transcend to the big screen. There are enough thrills to keep diehard fans interested. And people who haven't watched the show will probably enjoy the film as well. A film that full of mystery, thrills, horror and good old crime drama, this is one film that can appeal to a broad audience, and not just Horror fans or Sci Fi fans. A terrific film that has been been very well crafted, entertaining and well written, this is a film that even though flawed will definitely entertain you if you're in the mood for something different. This film is a change of pace from many of the Sci Fi / Horror films that we have seen.
Released in between two seasons, Fight the Future was a sad cop-out that only true fans could enjoy (I am one of them).
Tony Gandía
Super Reviewer
Discussion Forum
Discuss The X-Files - Fight the Future on our Movie forum!
News & Features