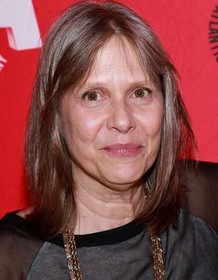 Amy Morton
Highest Rated: 90% Up in the Air (2009)
Lowest Rated: 23% 8MM (1999)
Birthday: Jan 1, 1958
Birthplace: Oak Park, Illinois, USA
Born in Oak Park, Illinois, Amy Morton fell in love with acting at the age of six after her mother enrolled her in a drama class. After attending Oak Park and River Forest High School, she studied at both Triton Community College in Illinois and Iowa's Clarke University, but left both without graduating. In 1982, she joined the Remains Theatre Ensemble, an acting company formed by William Petersen, Gary Cole and D.W. Moffett, among other local talents. Morton soon became an acclaimed figure on the Chicago theater scene, netting multiple Joseph Jefferson Award nominations and winning one for a 1986 production of "You Can't Take It With You" for the esteemed Steppenwolf Theatre Company. During this period, Morton also began appearing in features and on television series, many of which filmed in the Chicago area, like "Crime Story" (NBC, 1986-88) and "Rookie of the Year" (1993). But theater remained her favorite medium, and Morton joined the Steppenwolf company in 1997; there, she further cemented her status as one of Chicago's most gifted stage performers, and made her Broadway debut with Steppenwolf in a Tony Award-winning 2001 production of "One Flew Over the Cuckoo's Nest" with fellow company member Gary Sinise. In 2007, she starred in the Broadway run of Tracy Letts' "August: Osage County," for which she garnered a Tony nomination. Her role as George Clooney's sister in the comedy-drama "Up in the Air" (2009) raised her Hollywood profile, while recurring roles on the cable political drama "Boss" (Starz 2011-12) and crime drama "Blue Bloods (CBS 2010- ) made her a familiar figure on television. A supporting role in the Kevin James comedy "The Dilemma" (2011) was followed by a leading role in indie drama "Bluebird" (2013). The following year, she began a recurring role on procedural drama "Chicago Fire" (NBC 2012- ), which turned into a series regular role as police sergeant Trudy Platt on the spin-off "Chicago P.D." (NBC 2014- ). Throughout, Morton continued her stage work including a Tony- and Drama Desk-nominated performance as Martha in a 2013 revival of "Who's Afraid of Virginia Woolf?"
Photos
Amy Morton
Boss, Kathleen Robertson (L), Amy Morton (R), 'Season 2', 08/17/2012, ©STARZPR
Chicago PD, Marina Squerciati (L), Amy Morton (R), 01/08/2014, ©NBC
Chicago PD, Jason Beghe (L), Amy Morton (C), Sophia Bush (R), 'Actual Physical Violence', Season 3, Ep. #3, 10/14/2015, ©NBC
Chicago PD, Amy Morton, 'Born Into Bad News', Season 2, Ep. #23, 05/20/2015, ©NBC
Chicago PD, Amy Morton (L), Marina Squerciati (C), LaRoyce Hawkins (R), 'The Price We Pay', Season 1, Ep. #7, 03/05/2014, ©NBC
ROOKIE OF THE YEAR, Amy Morton, Thomas Ian Nicholas, 1993, TM and Copyright (c)20th Century Fox Film Corp. All rights reserved.
The View, John Slattery (L), Amy Morton (R), 08/11/1997, ©ABC
Filmography
Movies
| | | | Credit | | |
| --- | --- | --- | --- | --- | --- |
| 79% | 45% | Bluebird | Lesley (Character) | - | 2013 |
| 24% | 29% | The Dilemma | Diane Popovich (Character) | $48.4M | 2011 |
| 54% | 53% | The Greatest | Lydia (Character) | $115.9K | 2009 |
| 90% | 79% | Up in the Air | Kara Bingham (Character) | $83.8M | 2009 |
| 23% | 52% | 8MM | Janet Mathews (Character) | $36.3M | 1999 |
| 41% | 52% | Rookie of the Year | Mary Rowengartner (Character) | $53.1M | 1993 |
| 46% | 58% | Straight Talk | Ann (Character) | $20.1M | 1992 |
| No Score Yet | No Score Yet | Mrs. Cage | Elizabeth Cage (Character) | - | 1992 |
| No Score Yet | No Score Yet | Through Naked Eyes | Karen (Character) | - | 1983 |
TV
Credit

No Score Yet

90%

Chicago P.D.
Trudy Platt (Character),
Desk Sgt. Trudy Platt (Guest Star)

2014-2023

No Score Yet

88%

Chicago Fire
Trudy Platt (Guest Star)

2014-2023

No Score Yet

75%

Chicago Med
Trudy Platt (Guest Star)

2017

2019-2020

73%

69%

Chicago Justice
Unknown (Guest Star)

2017

No Score Yet

9%

The View
Guest

2015

No Score Yet

82%

Blue Bloods
Unknown (Guest Star)

2013-2014

89%

76%

Girls
Sissy (Guest Star)

2014

85%

86%

Homeland
Erin Kimball (Guest Star)

2013

81%

94%

Boss
Catherine Walsh (Guest Star)

2011-2012

No Score Yet

80%

Private Practice
Unknown (Guest Star)

2011

No Score Yet

85%

ER
Mrs. Walters (Guest Star)

2009

No Score Yet

No Score Yet

The Equalizer
Linda Wilhite (Guest Star)

1988-1989