Rookie of the Year
(1993)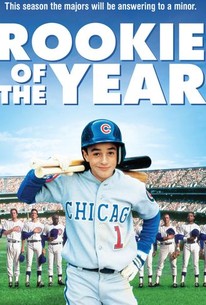 Rookie of the Year Photos
Movie Info
Rookie of the Year is a light-hearted comedy about a 12-year-old baseball fan who, despite his love for the sport, can't play the game at all. During one Little League contest, he breaks his arm. After it heals, it miraculously becomes a super-human arm that can out-pitch any player in the major leagues. The boy joins the Chicago Cubs and helps lead them to the World Series. Though the plot is silly and contrived, it's a pleasant film that is ideal for young sports fans.
News & Interviews for Rookie of the Year
Critic Reviews for Rookie of the Year
Audience Reviews for Rookie of the Year
Rookie of the Year is a fun family sports film that has good laughs and a colorful cast. Although not one of the most memorable childhood favorites, this is still a fun film worth seeing. Thomas Ian Nicholas gives a fun performance that is funny. Daniel Stern is fun as well, but I found him to be a bit over the top, even if that was the point, it was a bit annoying as well. Stern also directs, and he crafts a fun film that is quite funny, but at times fails to generate the laughs. This film could have been better of course, but overall it's a charming affair that should be seen by baseball film fans. The Sandlot was a better film, but this one does manage to be entertaining, but could have been thought out a bit better. All in all, it is a worthwhile film to watch if you have nothing else to do. The laughs are there, but the film loses steam near the end, and the ending should have been better. Even with all its imperfections, this is an entertaining film that will certainly appeal to the entire family. The performances are good, and there are a few memorable on-screen gags, but like I said, the film is no Sandlot, but it nonetheless delivers a fun filmgoing experience. Daniel Stern was able to pull off something effective here, but it just doesn't go beyond what it could have been. Rookie of the Year should have been a memorable and hilarious ride, but it ends up being funny at times, with parts that are clearly struggling due to an underdeveloped script.
Grew up with this movie, so i'm always going to love it.
Eric Alvarez
Super Reviewer
Lead child actor is terrible but still a 90's classic.
Lenny Muggsy
Super Reviewer
Rookie of the Year Quotes
| | |
| --- | --- |
| Phil Brickman: | Let the big dog eat! |
| | |
| --- | --- |
| Phil Brickman: | Now Henry, the key to being a big league pitcher, is the three R's: readiness, recuperation, and conditioning! You see, after the game, a lot of guys like to ice up their arm. Still, other fellas think that heat is the way to go. But I, have discovered the secret, Henry...hot ice! I heat up...the ice cubes! It's the best of both worlds! |
| Phil Brickman: | Now Henry, the key to being a big league pitcher, is the three R's: readiness, recuperation, and conditioning! You see, after the game, a lot of guys like to ice up their arm. Still, other fellas think that heat is the way to go. But I, have discovered the secret, Henry... hot ice! I heat up... the ice cubes! It's the best of both worlds! |