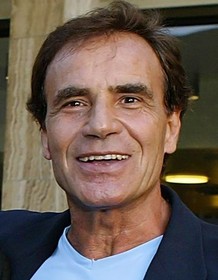 Antonio Sabato
Highest Rated: 92% Grand Prix (1966)
Lowest Rated: 92% Grand Prix (1966)
Birthday: Apr 2, 1943
Birthplace: Montelepre, Italy
Antonio Sabato Sr. was an actor who was no stranger to being featured in numerous film roles throughout his Hollywood career. He went on to act in the thriller "Das Raetsel des Silbernen Halbmonds" (1972) with Uschi Glas, the action picture "Thunder" (1983) with Mark Gregory and the action movie "Escape From the Bronx" (1984) with Mark Gregory. He also appeared in the action flick "Born to Race" (1988) with Joseph Bottoms and "High Voltage" (HBO, 1997-98). More recently, Sabato acted in "Wars Of The Robots" (2003). Antonio Sabato Sr. died on January 10, 2021 in Los Angeles, CA at the age of 77.
Photos
GRAND PRIX, Antonio Sabato, 1966
GRAND PRIX, (front) Toshiro Mifune, James Garner, Eva Marie Saint, Jessica Walter, Francoise Hardy, Genevieve Page, Yves Montand, (rear) Enzo Fiermonte, Antonio Sabato, Adolfo Celi, Jack Watson, Brian Bedford, Donald O'Brien, 1966
GRAND PRIX, Francoise Hardy, Antonio Sabato, 1966.
Watch What Happens: Live, Antonio Sabato Sr., 07/16/2009, ©BRAVO