Grand Prix
(1966)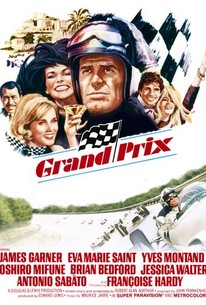 Movie Info
There's a few million dollars' worth of star power and a nickel's worth of plot in the lavish race-car melodrama Grand Prix. Among the participants in this annual cross-continent competition are characters played by James Garner, Yves Montand, Brian Bedford, and Antonio Sabato. Interested parties include Toshiro Mifune (his voice dubbed by Paul Frees), Adolfo Celi, and Claude Dauphin, while the women who agonize on the sidelines include Eva Marie Saint, Jessica Walter, and Françoise Hardy. The racing sequences are top-rank, cleverly utilizing those 1960s devices of helicopter angles and multiple screens. Oscars went to editor Frederic Steinkamp (among others) and the sound-effects supervisor Franklin E. Milton. Filmed on location, Grand Prix made back its cost about half a week into its run.
News & Interviews for Grand Prix
Critic Reviews for Grand Prix
Audience Reviews for Grand Prix
½
Grand Prix is considered one of the greatest films made about professional auto racing, mainly due to it's numerous camera angles, a variety of different and thoroughly captivating split screens as well as some of the most intense and engaging driving (A lot of it actually recorded at real Formula One races) sequences recorded on film. There is a lot to like here in the racing elements and a majority of the film is the races, however a downside is the bland and mindless romantic stories tied inbetween them. The only interesting element is the dilema of risk-taking and what you have to give to compete in such dangerous professions, the men involved all make many sacrifices as well as their loved ones. The cast all does a good job and Toshiro Mifune as well as many others make up the great supporting cast as well. For the driving sequences captured alone, the film is worth a watch.
Chris Browning
Super Reviewer
As the showpiece film for Formula One, Grand Prix is a cult favorite in the racing community. The racing sequences are tremendously exciting, shot from inside, in the air, along the track, in a chase car, pretty much everywhere that a camera can go. The fact that most of it was shot at high speed in real life, much of it at actual Formula One races, gives it a very authentic look. The personal stories, which seem to drag quite a bit, are filler in between races, but it's Frankenheimer's direction that puts you right behind the wheel.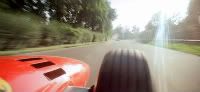 El Hombre Invisible
Super Reviewer
Frankenheimer sure knows how to shoot a car chase.Great looking film with spectacular races. The plot is ok. I miss SuperPanavision!
cody franklin
Super Reviewer
Grand Prix Quotes
There are no approved quotes yet for this movie.