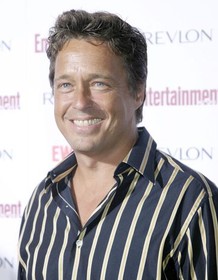 Brian McNamara
Highest Rated: 93% Arachnophobia (1990)
Lowest Rated: 4% Caddyshack II (1988)
Birthday: Nov 21, 1960
Birthplace: Long Island, New York, USA
Actor Brian McNamara's biggest crack at feature film fame came in the form of the Steven Spielberg executive produced 1990 sci-fi comedy "Arachnophobia," co-starring alongside Jeff Daniels and John Goodman. However, the film was a relative disappointment at the box office, and for the most part since that time, the Long Island native has focused his efforts on the small screen. In 2007, McNamara scored a regular series role on the Lifetime series "Army Wives," as the husband of the character played by Kim Delaney. It is by far his most substantial ongoing piece of TV work, although he did also headline the 1989 sitcom "The Nutt House" as Charlie Nutt III with Cloris Leachman and Harvey Korman. Beginning with a three-episode arc on "St. Elsewhere" in 1986, McNamara has done all manner of guest star work as well. He also earned a Golden Globe nomination in 1987 for his supporting performance in the 1987 NBC-TV movie "Billionaire Boys Club."
Photos
MYSTERY DATE, Brian McNamara, Ethan Hawke, 1991, (c)Orion Pictures Corporation
ARACHNOPHOBIA, James Handy, Jeff Daniels, Brian McNamara, Julian Sands, 1990
MYSTERY DATE, Brian McNamara, Fisher Stevens, 1991, (c)Orion Pictures Corporation
CADDYSHACK II, Jackie Mason (center), Brian McNamara (r.), 1988, (c)Warner Bros.
ARACHNOPHOBIA, John Goodman, Brian McNamara, Jeff Daniels, 1990.
Grimm, from left: Brian McNamara, Russell Hornsby, David Giuntoli, Michael Welch, Reggie Lee, 'One Night Stand', Season 3, Ep. #4, 11/15/2013, ©KSITE
ARACHNOPHOBIA, Julian Sands, Brian McNamara, 1990
MYSTERY DATE, Brian McNamara, Ethan Hawke, Teri Polo, 1991, (c)Orion Pictures Corporation
Army Wives, Brian McNamara, 'Brace for Impact', Season 7, Ep. #7, 04/21/2013, ©LIFETIME
Army Wives, Brian McNamara, 'Reckoning', Season 7, Ep. #10, 05/12/2013, ©LIFETIME