The Flamingo Kid
(1984)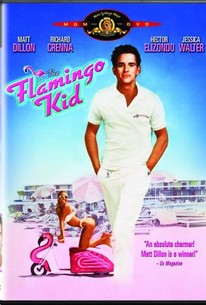 Movie Info
Set in 1963, The Flamingo Kid finds 18-year-old Brooklynite Matt Dillon, the son of blue-collar Hector Elizondo, getting a taste of the Good Life by joining several of his friends at "El Flamingo", a swank Long Island beach club. Wealthy car salesman Richard Crenna, the uncle of Matt's girl friend Janet Jones, befriends the boy and takes him under his wing. Thanks to Crenna's influence, Matt secures a good job at the Flamingo. The boy is bedazzled by Crenna's sumptuous lifestyle, and most especially by the older man's reputation as the Flamingo's reigning gin rummy champ. Dillon begins taking on airs, which alienates his down-to-earth father. Watch for a scene in which, while channel-surfing with his new remote control, Richard Crenna watches a fleeting clip from the old TV sitcom The Real McCoys--featuring Richard Crenna.
Critic Reviews for The Flamingo Kid
Audience Reviews for The Flamingo Kid
(***): [img]http://images.rottentomatoes.com/images/user/icons/icon14.gif[/img] Well-acted and funny.
TTT C
I don't know if it's because I'm not a fan of Dillon like some other people who reviewed this film, but I didn't think his performance was so great. I just couldn't get into this movie, and found it boring.
1963 and the Loss of Innocence Okay, so I don't know if Garry Marshall set the story in 1963 deliberately or if it was just, you know, "this should be in the early '60s" and 1963 seemed like a good choice. However, I do think there's a significance to the year whether they chose it on purpose or not. It is generally believed, rightly or wrongly, that American innocence died with Kennedy. Admittedly, in order to accept that, you have to believe that innocence can be regenerated; no nation which lived through the Civil War was innocent after it. But by 1963, it had been nearly a century since the Civil War and essentially no one who remembered it was still alive. It had been nearly twenty years since the death of FDR, and it had been over sixty since the last Presidential assassination. What's more, the country was young, and there were people of voting age who couldn't remember World War II, much less the Depression. For example, the heroes of tonight's picture. Namely, Jeffrey Willis (Matt Dillon). He wears dog tags, but they belonged to his father, Arthur (Hector Elizondo). Arthur is a plumber who is determined to send Jeffrey off to college to be an engineer. Jeffrey's not sure he wants that. A lot of the neighbourhood boys are working at the supermarket that summer, but Arthur has gotten Jeffrey a job as an office boy for an engineer he knows. However, Jeffrey goes off to play gin rummy with some friends at the El Flamingo beach club, an exclusive members-only place. First, he fixes a car and gets hired on as a valet. Then, he begins to woo Carla Samson (Janet Jones), and her uncle, Phil Brody (Richard Crenna), gets Jeffrey a job as a cabana boy. Jeffrey is making a really impressive amount every week, and he sees Phil as his ticket to bigger and better things. He rejects his father's working class view of what's best and begins to listen to Phil's advice, which includes maybe not going to college. The problem, I think, is that no one seems to be interested in who Jeffrey is. Arthur wants Jeffrey to go to college not because he thinks it's the best thing for Jeffrey but because that is what he sees as a symbol of success. Successful people have gone to college. Phil doesn't think Jeffrey should go to college because he didn't go, so why should anyone else bother? Maybe Jeffrey has it in him to be a great engineer, but why should he go through all that work? Phil is doing just fine selling sports cars. He only has to sell two a month--but he does have to sell two a month. His friends see Jeffrey as a great gin player who maybe isn't quite their sort. About the only one who really seems to want to know Jeffrey for Jeffrey is Carla, and she's from California and is going back at the end of the summer. Personally, I'm not sure if Jeffrey should go to college or not, but that's at least in part because I don't think even Jeffrey is enough interested in who Jeffrey is to have shared that. Oh, and there's the fact that Phil is really not a very nice or interesting person. He is, I think, the kind of person who appeals to a certain kind of young man, and Jeffrey happens to be in exactly the right place to fall into hero worship. Phil makes everything look easy. He lives in a house so large that Jeffrey's first question is to ask how many families live in it. He sells Porsches. He is the gin rummy champion of the club, involved in a summer-long high stakes game with all the other club bigwigs. And he seems to have gotten there without effort; the idea that Jeffrey could go to college and work really hard and be an engineer and still not live the kind of life Phil does is not a pleasant one to him. The idea that he can take it easy and essentially fall into a good life is a seductive one; it's a seductive one to most people, which is why all those Nigerian princes keep getting people to write them back. And Phil's life, I think, is about as reliable. I did find Jeffrey's friendship with Fortune Smith (Leon, best known as the saint who comes to life in the "Like a Prayer" video) a bit improbable--though not quite as improbable as Fortune's working in a visible position at the club in the first place. Fortune is another cabana boy, supposedly one of the best the club has to offer. He makes a great deal in tips. Now, I have no doubt that Fortune could be a busboy. Maybe even a valet, though probably not. But Fortune has a much closer interaction with the guests at the club than I think many of them would have considered acceptable in 1963, New York or not. That being said, I think I liked Fortune best. He knew that he was going to have to work hard to get ahead. No one was giving Fortune any easy breaks. In many ways, the story might have been more interesting from Fortune's perspective, though I don't think we need a story about white people from the perspective of a black guy, and the whole gin plot actually pays off in the end. I just wanted to know more about Fortune than Jeffrey.
Edith Nelson
The Flamingo Kid Quotes
There are no approved quotes yet for this movie.
Discussion Forum
Discuss The Flamingo Kid on our Movie forum!